Investors Love This Brazilian Candidate. That Doesn't Mean They'll Vote for Him
(Bloomberg) -- The wealthiest candidate in Brazil's presidential race, a former investment banker, has plenty of supporters among the financial community. He just won't get their votes.
Joao Amoedo, who is running as part of the New Party, is the dream politician for investors dreading the outcome of this year's election. After a career at Itau Unibanco and Citigroup Inc., the 55-year-old favors privatizing the state-controlled oil producer and banks and is a fan of labor and pension measures designed to shore up fiscal accounts. He is backed by Gustavo Franco, the former central bank governor who became a legend among investors for his efforts to rescue Brazil's economy after a currency crisis in the 1990s.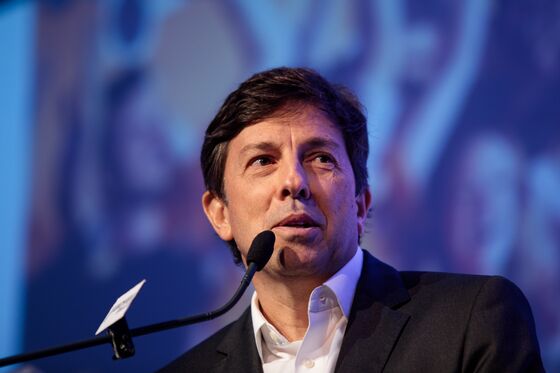 But he has almost no chance of making it to the final round of the election, according to recent polls, prompting would-be supporters to pledge their votes elsewhere. The thinking among many traders is that the worst possible outcome is a return to power for the Workers' Party, and so they're willing to hold their nose and vote for other candidates whose views don't fully match their own, but will stand a better chance in a runoff at the end of October.
"Amoedo has been doing a great job at the electoral campaign and surely will pass from a supporting role to one of the main candidates on the next elections," said Paulo Petrassi, a partner at Leme Investimentos in Florianopolis, Brazil. "I'm not voting for him only because he might steal votes from Geraldo Alckmin, increasing the left-wing candidates' odds."
The latest Ibope poll shows Amoedo tied with three other candidates in sixth place with 3 percent support before the Oct. 7 first-round vote. (The top two candidates will go to a runoff if no one gets more than half of the votes in the first round.) Former Sao Paulo Governor Alckmin, who also backs efforts to shore up the budget, is tied for third place with 9 percent. Jair Bolsonaro, the far-right lawmaker who was stabbed in an attack last week, remains the front-runner and has picked up support from some traders afraid of a leftist return.
Still, Amoedo maintains a following in the financial community. Ricardo Lacerda, partner and chief executive officer at BR Partners, a boutique investment bank in Sao Paulo, is a backer. The candidate's New Party, which he co-founded in 2011, doesn't use public funds and is supported only by donations.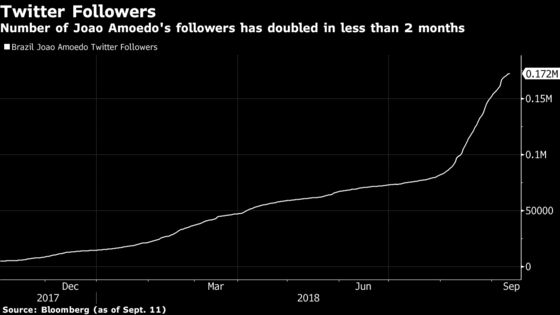 Brazilian markets have been volatile ahead of the most disputed election in decades amid widespread distrust of politicians and institutions after major corruption scandals. Investors pulled money from an exchange-traded fund tracking Brazil stocks at the fastest pace ever last month, and the currency is nearing a record low after losing 20 percent this year.
Amoedo defines himself politically as a classical liberal. He says restoring Brazil's fiscal accounts should be a priority for the next administration, seeing it as a key step toward winning back the country's investment-grade credit rating. On social issues, he's fairly conservative, saying he favors keeping abortion illegal while making it easier for private citizens to carry guns.
"We will fight poverty by generating income, not distributing it," Amoedo said at an event in Sao Paulo last month. "And capitalism is the best way to do so."
Capitalism has served Amoedo well. He is the wealthiest of the candidates vying for the presidency, having declared 425 million reais ($102 million) of assets including apartments, jewels and a yacht. By comparison, Bolsonaro, a former army captain and long-serving congressman, reported 2.3 million reais of assets to the election commission.
The finance community likes Amoedo "because of his background, the fact he was a banker, that he has knowledge about the market," said Fernando Mazzanti, a currency trader at INTL FCStone in New York. "Unfortunately, what I've been hearing is that although he seems to be a good candidate, voting for him is wasting your vote because he has very low chances."