Even U.S. Stocks Are Showing a Hit From the Trade War, UBS Says
(Bloomberg) -- Nearly all major stock markets bear the scars of this year's trade war, even the surging U.S. bourse, according to UBS Group AG.
Strategists at the Swiss bank including Vassili Serebriakov isolated the impact of equity moves on "trade shock" days to show the Shanghai Composite Index has been cut by 11.1 percentage points, and Europe's Stoxx 600 Index by 7.9 points so far this year. The effect on the S&P 500 Index is lower, but still about 3 percentage points, they said.
The Chinese benchmark is down more than 19 percent for 2018, and is currently in a bear market relative to its January peak, while U.S. stocks are up about 8 percent, with the S&P 500 near last month's record high.
"U.S. equities are pricing in little trade impact at the moment, and could be vulnerable should tensions escalate," the UBS strategists concluded. "Conversely, if trade tensions ease, emerging Asia equities have the most room to rally."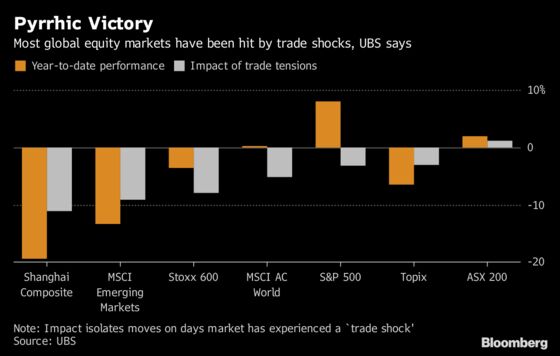 U.S. stocks have outperformed as the escalation in trade tensions, spurred by the Trump administration, coincides with a strengthening in the American economy, which is on course for its fastest growth since 2005. China, by contrast, is seeing its growth slowing as its deleveraging campaign starts to bite.
"Markets certainly have decided the U.S. won the trade war so far," judging by the divergence in U.S. and Chinese equity markets, said Ben Emons, chief economist at Intellectus Partners LLC. in recent comments to clients.
See here what UBS analysis indicated on the trade-war's impact on currencies.
Perhaps surprisingly given its trade ties to China, Australia's equities have emerged as something of a haven, the UBS analysis suggests. The country's benchmark S&P/ASX 200 shows a cumulative positive impact of 1.2 percentage points on trade-shock days this year, the data show.