EM Value Stocks Beat Growth Shares, Signaling Flight to Safety
(Bloomberg) -- It's the stock market's self-healing mechanism. It was seen at the time of the financial crisis, the euro-region's debt troubles, the oil-price slump and Donald Trump's election victory.
And it's happening now in emerging markets.
Investors are switching to companies in mature industries with steady cash flows and cheap valuations, dumping smaller firms that have growth potential but also come with higher valuations and revenue volatility. So-called value stocks are outperforming growth stocks in the developing world, rising to a one-year high in relative terms.
The tilt toward value stocks signals a flight to safety by investors worried about how far the meltdown in riskier assets could go against a backdrop of of rising U.S. interest rates, a brewing trade war and mounting fiscal stress in developing nations.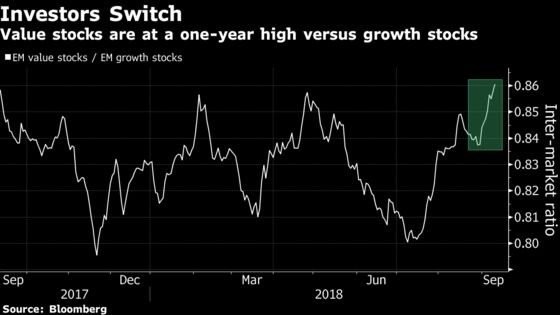 That caution is rubbing off on analysts. While they are cutting earnings estimates for emerging markets as a whole, their reductions are more pronounced in growth companies such as technology firms than in the value segment that includes sectors like health care.
Profit estimates for the latter group are still up for the year, while they are down for the former.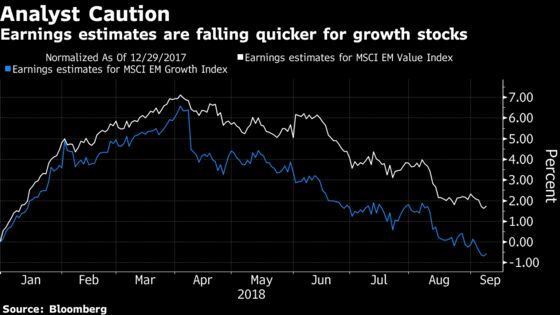 Derivative traders are also catching on. They have bid up bearish options on the iShares Core MSCI Emerging Markets Exchange-Traded Fund so much that the put-call open interest ratio has jumped to the highest since October 2016. The same proportion in the main iShares MSCI Emerging Markets ETF is near the lowest in two years.
While the core ETF and the main ETF both have large overlaps, the former invests in a wider universe of emerging-market stocks including those with lower valuations. The core fund has a median market capitalization of $18.35 billion compared with $23.02 billion for the main fund. That suggests forward traders are worried more about declines in smaller stocks -- many of which are growth stocks -- than in larger ones.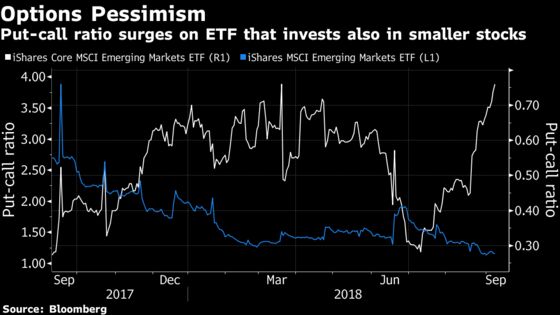 The outperformance of value stocks over growth stocks was a primary trend witnessed in developing-nation equities from 2000 to 2005, from 2007 to 2009, and 2011 to 2012, when investors were still warming up to emerging markets as an asset class and largely stuck to large, established companies.
Since 2012, the trend has reversed, with growth stocks outperforming. This has marked the period when global investors took riskier bets and bought smaller companies with high-growth prospects.
For the past year, the relative performance between the two groups has fluctuated as investors assess the outlook for emerging markets as the easy money dries up. If value stocks surge ahead now, it could be a signal that emerging-market investors are settling for a lower-growth and more stable environment.
The MSCI Emerging Markets Index has fallen more than 13 percent this year, the worst annual losses since 2015.