Get Ready for Another Deluge of U.S. Crude Exports
(Bloomberg) -- Don't be surprised to see bumper U.S. oil shipments heading overseas in the coming weeks.
Global benchmark Brent is trading at its widest premium to U.S. yardstick West Texas Intermediate since June, a gap of more than $10 a barrel. The last time the difference between the two benchmarks was this wide, it took just three weeks for American crude shipments to surge higher.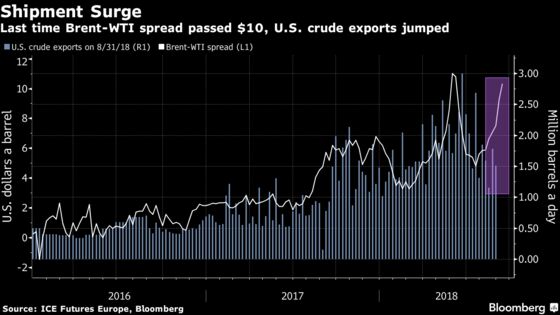 "Cheap U.S. oil will be in demand," said Richard Fullarton, founder of London-based oil hedge fund Matilda Capital Management Ltd. "We should see exports of WTI increase due to the wider WTI-Brent spread, although storms may also have an impact."
Crude stockpiles at the storage hub of Cushing, Oklahoma have increased in each of the last four weeks, bolstering concerns about a supply glut in the U.S. Crude differentials in both the Permian basin and Canada have weakened in recent months as surging production has hit the roadblock of limited pipeline capacity. That has rubbed up against a Brent market already buoyed by reduced shipments from Iran before fresh U.S. sanctions, as well as renewed concerns about political instability in countries such as Libya.
Still, the blow-out in the Brent-WTI spread may ultimately ease glut concerns.
"It seems a bit too wide," said Jens Pedersen, senior analyst at Danske Bank A/S. "It's difficult to see this spread sustained because the U.S. producers have the possibility of exporting crude."