Reliance on Soaring Stocks Leaves the U.S. Dollar in a 'Fragile' State
(Bloomberg) -- Wondering what's driving the U.S. dollar? Forget the Fed and look to the stock market.
The breakout in American equities is pushing the greenback these days much more than the Federal Reserve's tightening cycle, according to TD Securities.
"It's clear that equities have shifted into the driver's seat," Mark McCormick, the bank's North American head of foreign exchange strategy, wrote in a note Tuesday.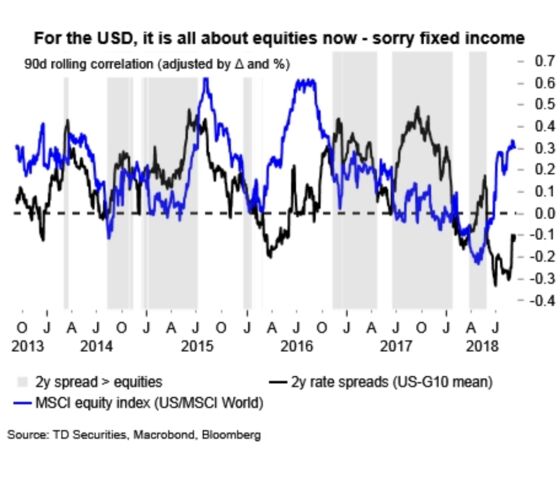 The three-month connection between changes in the dollar and U.S. stocks relative to the rest of the world has strengthened, while the currency's correlation with short-term interest rate spreads in other advanced economies has turned negative.
Stronger outright and risk-adjusted returns have foreign investors, particularly in Japan, boosting their stateside exposure on an unhedged basis, McCormick wrote. Higher returns, not higher rates, have been the big boon for the dollar. This trend also took hold in the summer of 2015, when China's devaluation of the yuan sparked another flight to safety in which emerging market assets were acutely battered.
"The focus on equities for FX highlights the fragile nature of the U.S. dollar's support given buybacks, fiscal stimulus, FANG outperformance, and corporate repatriation all, for the most part, remain temporary factors," the strategist wrote.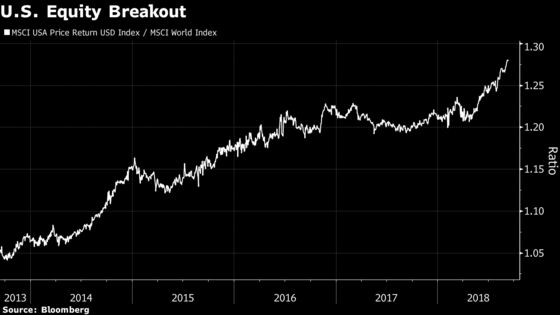 TD highlighted rising labor costs or spillovers from abroad as catalysts that could narrow the gap between U.S. equities and the rest of the world, and in turn clip the dollar's wings.
"It is not clear that U.S. equities divergence should continue at this magnitude -- at least against other developed markets like Europe and Japan," McCormick concluded, adding that he expects to see support for the yen, euro and Swiss franc going forward.