Hong Kong's Hottest New Stock Falls Back to Earth
(Bloomberg) -- Most Kwai Chung Ltd., the media firm that staged Hong Kong's best 2018 debut, has swung back to its initial offer price following a 90 percent plunge from an intraday record high.
The provider of advertising and media services dropped as much as 5.6 percent Tuesday, trading below HK$1.20 for the first time on an intraday basis. The shares closed at HK$1.23. Most Kwai Chung surged as much as 880 percent to HK$11.76 on March 28 when it started trading.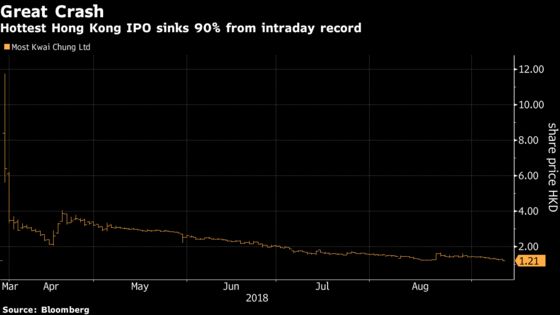 The Hong Kong-based company's IPO was so popular that individual investors placed orders for a record 6,289 times the initial retail portion of the deal. Two months after the share sale, the company reported its first sales and profit declines in three years. Revenue dropped 8.9 percent on year and net income sank 81 percent to HK$6.9 million ($879,015) in the 12 months through March.
Companies debuted on Hong Kong's main board this year have fallen 20 percent on average from their offer prices through Monday, according to data compiled by Bloomberg. The hottest 10 new stocks - by retail subscription ratios - have dropped by an average 13 percent from their offer prices even after an average 102 percent rally on the first trading day.