Europe's Superstar and Underdog Stocks May Soon Trade Places
(Bloomberg) -- The mood may be shifting for Europe's most-loved and least-favored stocks of 2018.
Sentiment toward banks, the worst performers, looks to be improving, while the oil sector may be poised for declines after months of outpacing the regional benchmark. The Relative Rotation Graph below shows that the bank index (SX7P) is moving from the lagging to the improving quadrant, while energy (SXEP) is transitioning from the leading quadrant to the weakening one.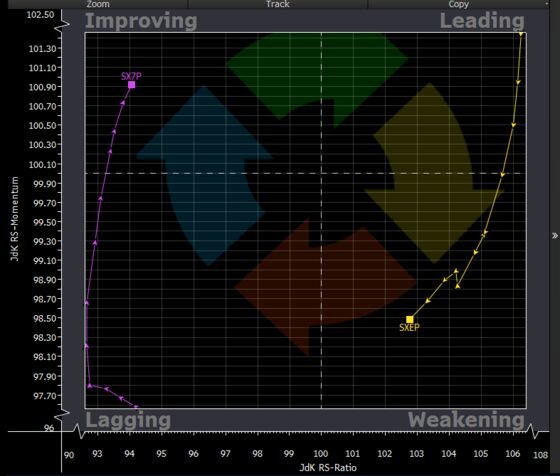 Banking stocks may be finding a floor this month as investors, including Franklin Templeton, seize on valuations at a two-year low as a buying opportunity. In contrast, European energy stocks have retreated 7 percent from a four-year high reached in May, their strong run interrupted by concerns about the outlook for crude prices and after some oil majors missed second-quarter estimates.
"The mood for banks is improving due to a largely positive earnings season, combined with undemanding valuations in the sector after another period of underperformance," said Marcus Morris-Eyton, a London-based fund manager at Allianz Global Investors. "In the energy sector, there is an element of profit-taking, with the sector having been the strongest performer year-to-date."
Other sectors worth watching are European automakers, which are heading for the improving quadrant, while tech and retail stocks are quickly losing steam, according to the Relative Rotation Graph.