Europe May Be `Epicenter' of Emerging-Market Crisis, BofA Says
(Bloomberg) -- If the current weakness in emerging markets turns into a global crisis, Europe may be its epicenter, according to Bank of America Merrill Lynch.
European stocks have underperformed lately as emerging-market currencies plunged amid tightening dollar liquidity. With its open economy and high debt levels, the region is more vulnerable to weakness in developing nations, and may be the conduit that finally spreads the contagion to U.S. shores, as Japan did in the wake of the Asian financial crisis in the late 1990s, strategist Tommy Ricketts said.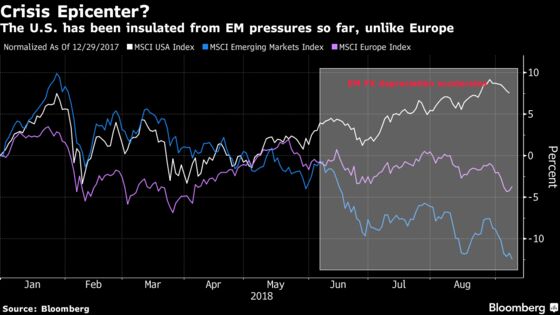 "If the EM currency crisis becomes global and cross-asset in nature, we think stress will stem from Europe, as it did from Japan in 1998, before finally reaching U.S. shores," he said in an email.
To him, the risk is that instability in emerging markets will cause European corporate credit spreads -- artificially suppressed by quantitative easing -- to widen, thereby affecting U.S. credit markets and equities.
Another risk is that the euro will surge as European investors convert their emerging-market currencies and start to look forward to tighter liquidity conditions in Europe, Ricketts added. That would pressure regional companies' earnings. The European Central Bank is expected to confirm on Thursday its plan to start slowing bond purchases in October before raising rates in the fall of 2019.
"A weak euro, positive global economic backdrop (especially exports) and tight spreads are the best cocktail for European equities to outperform," Ricketts said. "Clearly risks are the other way at the moment."