Brazil Assets Slump as Left Advances One Month Ahead of Election
(Bloomberg) -- Brazilian markets dropped as a poll showed left-wing candidates gaining support while those favored by investors stalled out with less than a month to go until the presidential election.
The real and the benchmark stock index were the worst performers among major markets globally Tuesday, erasing all gains posted after last week's knife attack targeting conservative Jair Bolsonaro spurred speculation his candidacy would get a boost. Sovereign bonds also dropped, along with notes from state-run companies.
Candidates on the left, who investors fear would backtrack on efforts to shore up Brazil's fiscal accounts, were the only ones who gained support at a level that exceeded the margin of error in a Datafolha poll released last night. Bolsonaro still leads, but the sympathy boost that some analysts expected after he was stabbed didn't seem to materialize. The former Army captain climbed to 24 percent support, from 22 percent, and his rejection rate -- from voters who say they just can't stand him -- remained sky-high at 43 percent. Bolsonaro would lose a second-round vote to almost every potential opponent, the poll shows.
"There's no reason for optimism," said Adeodato Volpi Netto, the head of capital markets at Eleven Financial Research. He said the poll only clouded the outlook for the election.
Former Ceara state Governor Ciro Gomes, who has said he would expropriate oil fields and tax the rich to close Brazil's budget gap, rose to 13 percent support from 10 percent last month. Fernando Haddad, who's expected to replace ex-President Luiz Inacio Lula da Silva as the Workers' Party candidate, jumped to 9 percent from 4 percent.
"Datafolha frustrated expectations that Bolsonaro would grow and his rejection would fall," said David Cohen, a partner at Paineiras Investimentos in Rio de Janeiro. The improvement for Gomes and Haddad suggests Bolsonaro will face a leftist candidate in the final round, and the polls show "a very complicated scenario for Bolsonaro in a run-off."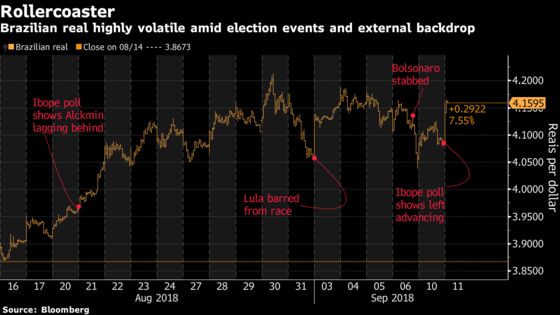 The real slumped 1.9 percent to 4.1638 per dollar as of 10:18 a.m. in New York, while the Ibovespa lost 1.8 percent. The country's benchmark overseas notes due in 2028 fell 0.74 cent to 88.7 cents on the dollar.
The so-called centrist candidates, who are seen as more likely to move forward with reforms of the pension system and austerity measures, all but stalled in the latest poll. Geraldo Alckmin rose to 10 percent, from 9 percent, despite having more exposure on TV and radio ads than all other candidates. Environmentalist Marina Silva dropped to 11 percent, from 16 percent.
Brazilian assets rose last week after Bolsonaro was stabbed at a campaign rally by an attacker who said he was on a mission from God. The attack spurred bets the right-wing populist -- known for incendiary comments about blacks, women and homosexuals -- would widen his lead and the left would get blamed for the attack.
Even though Bolsonaro has given little detail about his economic plans, he has gained favor with investors as Alckmin's candidacy struggles to gain traction. The idea is that his University of Chicago-trained adviser Paulo Guedes would help him chart a course that pleases investors, and his victory would be better than a return to a leftist government.
Brazilian markets have been volatile ahead of the country's most disputed election in decades, with a dozen candidates and widespread distrust of politicians and institutions after several corruption scandals. Investors pulled money from an exchange-traded fund tracking Brazil stocks at the fastest pace ever last month, and the currency is nearing a record low after losing 21 percent this year.
This week's polls are seen as key as they capture the first days of political TV and radio ads that began Aug. 31, as well as any impact from the attack on Bolsonaro. Pollster Ibope is expected to publish a new poll tonight, and Datafolha registered a survey for release Friday.
Brazil holds general elections on Oct. 7 and if no candidate gets a majority of valid votes, the top two will face off in a runoff on Oct. 28. Lula, who led voter polls, was barred from running due to a corruption conviction, and the Workers' Party has until Tuesday evening to announce a replacement on the ticket.