BlackRock Hits Back at SocGen's Warning About the ETF Market
(Bloomberg) -- Alarm bells over the perils of the ETF investing boom are ringing anew, with Societe Generale SA the latest to warn on brewing liquidity risks -- provoking a rebuke from the world's largest asset manager.
After stress-testing the fragility of 16,000 stocks, the French bank concludes small caps, dividend shares and gold miners are all acutely vulnerable in market downdrafts thanks to outsized ownership among passive investors.
In turn, those positions could prove more costly to exit. Given the Bank of Japan's massive purchases, the Nikkei 225 Index is also, in theory, particularly fragile.
"Crowdedness exists but is limited to a few stocks and strategies," SocGen analysts led by Sebastien Lemaire wrote in a report last week.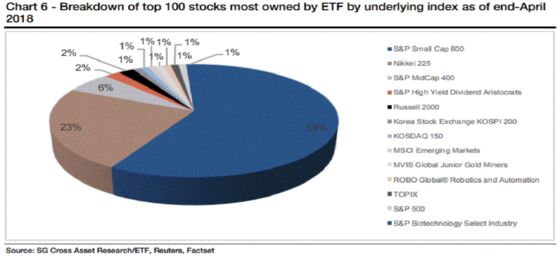 The conclusion provides some ammo for regulators and ETF detractors on Wall Street, who charge the post-crisis flood of passive money has marshalled an investing-herd mentality, dubbed crowding risk.
Small caps could be whipsawed by this dynamic since the same stocks in the sector make an appearance in multiple indexes tracked by ETFs, according to the report.
The world's largest issuer of passive products BlackRock Inc. dismisses the warnings.
"This research is underpinned by two assumptions that don't reflect the historic behavior of investors or ETFs," the firm said in an emailed statement.
"To assume that all investors behave the same way in times of market stress is not grounded in reality. Additionally, we have repeatedly seen ETF volumes grow dramatically during times of stress as investors utilize them as a tool for price discovery."
Regardless, SocGen's critique is a familiar one on Wall Street.
The theory goes that in a tumbling market, secondary liquidity in the ETF would likely evaporate, forcing traders to shift to the primary venue, with the liquidity of assets underlying the passive instrument subject to increased selling pressure.
Gold miners stocks held by popular securities from the likes of VanEck are at risk, thanks to large ownership by these funds, according to SocGen strategists.
Weighting dynamics also increase crowding risks in dividend equities, with a clutch of gauges boosting exposures to shares with modest market capitalizations given their high yields. That, in turn, has led to heavy holdings by ETFs of stocks like Tanger Factory Outlet Centers Inc. and Meredith Corp.
That's not to say ETF providers aren't aware of the issue. The VanEck Vectors Junior Gold Miners ETF, for one, changed its index last year after ownership stakes in some companies rose above 10 percent.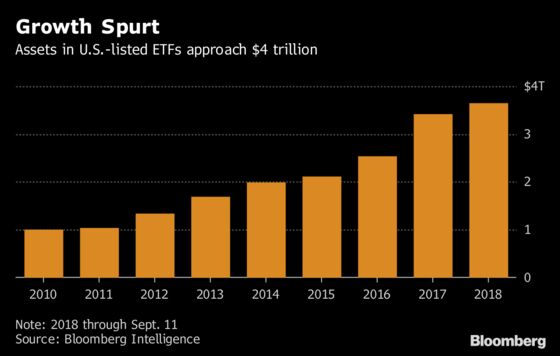 And there's good news from the French bank. Around 90 percent of world equities likely aren't subject to heightened risk of a liquidity squeeze because they're owned 10 percent or less by ETFs, it says.
Even in fragile emerging markets -- an asset class riddled with hot money -- passive funds appear to have passed this year's stress test.
BlackRock points to action in its iShares MSCI Turkey ETF, ticker TUR, last month when the country's assets were roiled by increasing tensions with the U.S. The ETF's underlying index plummeted 16 percent on Aug. 10, but trading in the fund remained orderly, with no discernible impact on the underlying shares.
"TUR saw its highest amount of daily trading volume ever, with 13.3 million shares exchanging hands that day, compared to its previous average daily volume of 500K shares," according to the statement.
Still, regulators continue to warn of liquidity challenges spurred by the ETF revolution.
Among the latest is the European Systemic Risk Board. In a report this month, it warned that market stress could "create first-mover advantages if, for instance, primary markets offer stale prices, while the underlying markets are turning illiquid."
The result? "Investors may expect there to be greater liquidity than that available during times of stress," the report concluded.