Where Are the Analysts? Europe Small Caps Battle to Be Seen
(Bloomberg) -- Nothing says MiFID II like a corporate results briefing attended by no one but the company's representatives and four analysts.
Keith Hiscock, chief executive of consultant Hardman & Co., went to one such meeting last month, with attendance half of what it was a year before. That, he says, puts stock liquidity at risk and potentially undermines the reason for maintaining a listing.
"The danger is that liquidity is going to be a lot lower and that many companies are going to say: what's the point of being in the stock market?" said Hiscock, whose firm receives commissions from companies for researching them. "Investors are more reluctant to invest in companies where, for example, there's only one analyst covering them."
Smaller listed companies are finding it harder to get noticed after the European Union's sweeping new financial regulations upended the economics of equity research this year. As investors began having to pay for research separately from other brokerage services, analyst coverage has dwindled, particularly for thinly traded small caps. The total number of recommendations on Europe's small-cap index has dropped 7 percent so far this year, on track for the sharpest decrease in at least a decade, compared with 4 percent for the large-cap benchmark, data compiled by Bloomberg show.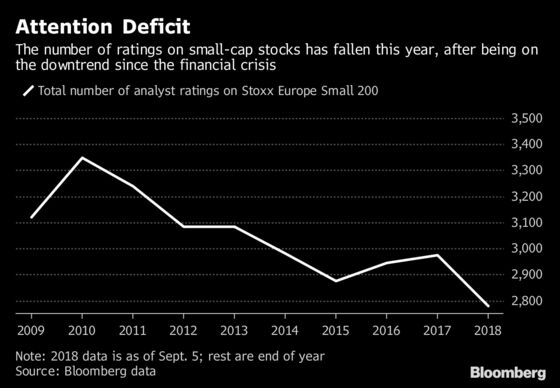 Faced with newly unbundled costs, asset managers have slashed budgets for research and culled their brokers, rewriting the longstanding relationship between corporates and markets. That's left smaller companies grappling with how to maintain their profile when they're the first to lose analyst coverage and can no longer rely solely on their enervated brokers as a conduit to investors.
"Brokers have been saying to their corporate clients: we don't talk to those people anymore because they're not on our list. The range of communications options has diminished," said Clive Anderson, a senior partner at h2glenfern, an investor relations adviser in London. "Corporates need to be a bit more self-sufficient."
For smaller companies, the concern is that declining coverage also curbs trading volumes, making it harder for them to raise capital, transfer stakes or meet institutional investors' liquidity requirements. In an April survey conducted by the U.K.'s Quoted Companies Alliance, which represents small- and mid-caps, 70 percent of investors in the segment said MiFID II will result in less research on such firms.
Responding to questions about the rules' effects on markets and small- and mid-caps, the European Securities and Markets Authority said there are indications that MiFID II has had a positive impact on unbundling costs and charges for fund managers and investors.
Regulatory actions related to MiFID will intensify as authorities scrutinize falling pricing models and research budgeting, according to Bloomberg Intelligence.
The new world has led many corporates to start paying for research coverage themselves and receiving requests for meetings directly from investors that in the past were mediated by brokers. Many now turn to firms like ingage and CorporateAccessNetwork whose business is arranging such conferences. U.S.-based Valuation Metrics Inc., which uses quantitative tools to match investors and stocks, says more European corporates are turning to them.
Also among Hardman's recommendations to companies: hire investor relations advisers, pitch themselves to the press, host a capital markets day and cater more to retail investors.
And don't neglect the humble website. About three-quarters of investors in the QCA survey said corporate websites are set to become an increasingly vital source of information.
"It's becoming much more important that their annual report, their website, and their connections with their investors directly, as well as via the brokers, are as good as it possibly can be because they're not going to get the independent write-up," said Tim Ward, the QCA's chief executive.
It's still too early to tell how reduced coverage and volumes will affect share price movements, but one potential corollary is that small- and mid-caps will become more volatile and the market less efficient -- potentially benefiting stock pickers. With less information, such stocks may have more exaggerated earnings reactions, said Edmund Shing, global head of equity and derivative strategy at BNP Paribas SA in London.
For many small-caps, being ignored by equity analysts is nothing new. MiFID is just another source of pressure for stocks under the radar to promote themselves, said Mark Hodgkins, chief financial officer at Trackwise Designs Plc, which listed on London's growth market AIM in July. Companies could help themselves by submitting articles and interviews to websites, hosting investor days and providing research to investors, he said.
"It means you focus more avidly on developing your story in the marketplace," Hodgkins said from his base in Gloucestershire, western England.