The Hong Kong Researcher Pointing Out Red Flags at Chinese Firms
(Bloomberg) -- Earlier this year, Royal Bank of Canada's Asia equities team ran the numbers for Chinese sportswear firm Hosa International Ltd. through a third-party screening tool. They decided not to invest.
"It had theoretically great metrics," said Mayur Nallamala, head of Asian equities at RBC's asset management unit. But "after we ran it through the filter we said 'No'."
It was a good call. Hosa has plunged almost 90 percent this year, buffeted by a short seller report in July that said the shares were worth zero.
Hosa wasn't the only Chinese apparel maker to get red flagged by the maker of the tool, Hong Kong-based GMT Research Ltd. Anta Sports Products Ltd., Xtep International Holdings and 361 Degrees International Ltd. were among those tagged as questionable in a June report by GMT. Using the companies' reported figures to search for suspicious accounting patterns employed by others in the past, GMT founder Gillem Tulloch asked whether the three footwear makers' numbers were too good to be easily believed.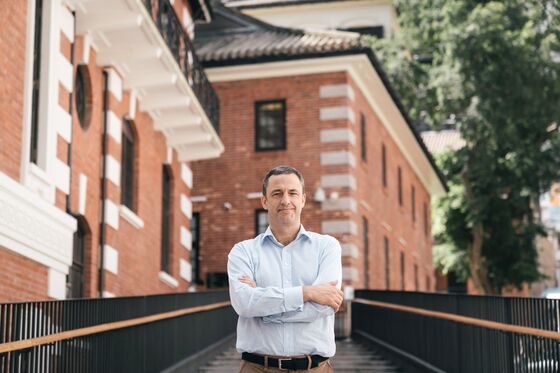 The report put four-year-old GMT on the map, appearing to affirm investor appetite for deeper analysis of financials in a market scarred by accounting irregularities. It's a trend that's likely to continue after MSCI Inc. added more than 200 locally listed Chinese companies to benchmark indexes that guide investments by pension funds, passive money managers and others overseeing $12 trillion.
Anta fell more than 12 percent in the two days following the report's publication. Xtep and 361 Degrees both dropped more than 6.6 percent. They've since moved broadly in line with the Hong Kong market.
All three firms refuted the report's findings at the time. Asked anew, Xtep pointed to its June statement, which said any allegations of corporate fraud were false. A 361 spokeswoman declined to comment. In June, the company denied all allegations made by GMT. "With a stellar 2018 interim results delivered in August, Anta has answered any accusation with its performance," Chief Financial Officer Lai Shixian said.
A Hosa spokeswoman declined to comment on GMT's screening tool. (The firm said in July that the allegations made by the short seller, Bonitas Research LLC, were incorrect and misleading. Its shares are now suspended, and the company last week delayed the release of its first-half results.)
"We have a large number of Chinese companies that have not yet been intensively analyzed and are immature at reporting earnings in a manner investors are used to," said Melissa Brown, a partner at investment firm Daobridge Capital Ltd. in Hong Kong and a GMT subscriber.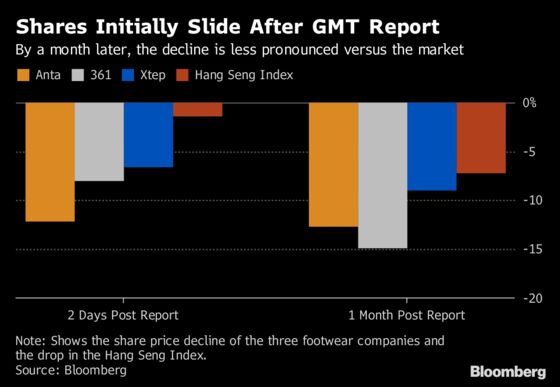 That's where firms such as GMT are trying to carve a niche. The research firm says it checks more than 65 accounting and corporate governance data points against industry peers drawn from 16,000 companies worldwide. Its goal, it says, is to judge whether a company is overstating -- or understating -- its profits by exploiting accounting standards. Just 1 percent of global firms demonstrate similar traits in the screening tool to past fake cash flow frauds, according to Tulloch, whereas that number rises to as high as 7 percent for companies in China and Hong Kong.
As well as its screening tool, GMT publishes sporadic reports such as the piece on the footwear companies. For that, it checked seven firms for traits similar to past examples of egregious accounting, using what it calls its "fake cash flow model." That looks at factors such as whether companies have abnormally high margins, high levels of non-production assets such as cash, low dividends or buybacks, and a relatively unknown auditor. When they all occur together, GMT says, that is reason for concern.
Not everyone is as positive about GMT's approach.
Bank research analysts have criticized it as being scattergun. Just because a company ticks some accounting boxes also checked by past frauds doesn't mean it's doing anything wrong, said Robin Yuen, an analyst at UOB Kay Hian (Hong Kong) Ltd. who has a buy rating on Anta and hold rating on Xtep.
"The sportswear report was the first time the market had heard of GMT," Yuen said. Balance sheets alone will not reveal a fraud. You need to go out and count a company's assets and check government records, for example, he added. UOB prefers to do more channel checks and meet with management, he said.
GMT's clients, who are mostly long investors, can pay more than $100,000 for a year's access to the screening tool and reports, according to Tulloch. GMT doesn't take investment positions, and while the company has hedge fund clients that short sell, it doesn't write reports at their behest, he said. Most of the firm's work is focused on Hong Kong and China.
"Investors are concerned about Chinese corporates, and you need to stress test and adopt a more rigorous view toward accounting policies," said Jonathan Garrick, a portfolio manager at the $300 million Hong Kong-based hedge fund firm Bric Neutron Asset Management Ltd., who also uses GMT. "That kind of thing is not apparent in a lot of sell-side research."
Not all GMT's reports are negative. After short-seller attacks on luggage maker Samsonite International SA and AAC Technologies Holdings Inc., GMT issued notes saying both efforts were over-egged. More recently, the firm added positive accounting flags to its screening tool.
GMT forms part of a swathe of independent research firms that are seeking to expand their businesses after the introduction of the European Union's revised Markets in Financial Instruments Directive, known as MiFID II, which they're betting will create more demand for niche research. Tulloch compares his focus on forensic accounting to U.S. houses CFRA Research and Schilit Forensics.
Tulloch, 47, started GMT in 2014, having previously served as research head for Thailand at CLSA Ltd. He's joined at the firm by his wife Lisa Mangkornkarn, mergers and acquisitions adviser Nigel Stevenson and former HSBC Holdings Plc conglomerates and transport analyst Mark Webb.
Tulloch says he's received legal threats, cease and desist demands and menacing phone calls since he started the company. The Securities and Futures Commission recently ended a two-year investigation without taking any action against GMT, after a complaint by a company that the researcher wrote about in 2016, he said. The SFC declined to comment.
"They approach things from the angle of being a sceptic," said RBC's Nallamala. "Some people would say that everything to them looks dodgy, but that's fine for me because I want them to think that way. When we invest in companies around the region, we are trying to avoid things that blow up and go to zero."