Semiconductor ETF Loses Record Cash Amid Global Chipmaker Rout
(Bloomberg) -- Exchange-traded fund investors fled the semiconductor scene last week as chip stocks took a hit amid weakening demand.
The iShares PHLX Semiconductor ETF, known by its ticker SOXX, posted record outflows of $393 million for the week ending on Sept. 7. The Philadelphia Stock Exchange Semiconductor Index fell 2.9 percent over the same period, the most since the end of June. Investors pulled $259 million from the fund on Friday alone, the second most since its inception in July 2001.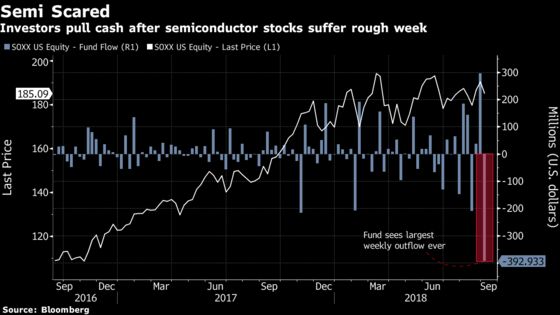 Semiconductor companies faced a flurry of bad news last week starting with the weakened outlook for KLA-Tencor Corp., a firm that makes equipment used in chip production. Then, Baird upped the ante by removing Micron Technology Inc. from its list of top semiconductor large-cap ideas. The group dragged down the rest of the technology industry shares, making it the worst-performing group in the S&P 500 on Thursday.
While chipmakers this year have gained more than 7 percent on the strength of strong fundamentals, the stocks aren't moving on earnings anymore, said Mark Hackett, chief of investment research at Nationwide Funds Group.
"They're trading on the hope of an explosion higher globally, but we think there's enough warning signs at this point to say it's not going to be a lot better," he said.
According to TD Ameritrade, the firm's retail clients were split on particular semiconductor stocks in August. The brokerage's Investor Movement Index report, a measure that has tracked positioning since 2010, shows clients sold shares of Qualcomm Inc., which is the biggest holding in SOXX amounting to 10 percent of the ETF, while they were net buyers of Advanced Micro Devices Inc., the sixth largest position in the fund.
"Everyone is trying to figure out who's going to be the winners and losers, especially after this earnings season," said Joe "JJ" Kinahan, the chief market strategist at TD Ameritrade. "AMD has a lot of momentum after earnings, so that has a lot to do with it also."