Pound Surges as Barnier Puts Brexit Deal on Two-Month Horizon
(Bloomberg) -- The pound rallied and gilts fell after the European Union's chief negotiator Michel Barnier said it's "realistic" to get a Brexit deal within eight weeks.
Sterling jumped as much as one percent as Barnier said an agreement is possible by the start of November, though several issues were still outstanding in the talks. That includes measures to prevent the re-emergence of a hard Irish border, which is among the thorniest Brexit problems weighing on market sentiment.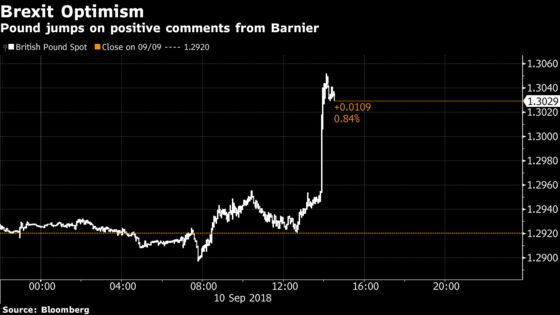 "The reaction shows that the market had priced in a marginal risk of a no-deal Brexit," said Thu Lan Nguyen, a strategist at Commerzbank AG. "Whether this move proves sustainable largely depends on the actual progress of the negotiations."
The pound rose 0.8 percent at $1.3026 by 2:34 p.m. in London, after touching a five-week high of $1.3052. Yields on 10-year government bonds rose two basis points to 1.47 percent. The FTSE 100 Index erased gains as the pound jumped, with the two tending to have an inverse relationship as a weaker currency boosts companies' overseas earnings.
Investors will now be watching for any hints from either side showing a willingness to compromise on the remaining issues, Nguyen said. The prospect of no deal before the U.K. leaves the bloc in March helped drive the currency to the lowest in more than a year last month.
While talk of scope for a deal in November is positive, any agreement still has to get through the U.K. parliament, which may be a bigger stumbling block, said Adam Cole, chief currency strategist at RBC Europe.