Nomura Quant Says Hedge Funds Are Poised to Gorge on Leverage
(Bloomberg) -- Caution, meet wind.
Hedge-fund managers look compelled to load up on risk assets and pump up returns with debt after emerging-market turmoil and interest-rate fears drove leverage ratios close to one-year lows.
Their defensive posture has proved costly -- and it's likely unsustainable.
"We think hedge funds need to mull another re-risking strategy ahead of this autumn," said Masanari Takada, a quantitative strategist at Nomura Holdings Inc.
It could be a godsend for market bulls.
Fast money's muted positioning limits their firepower to intensify sell-offs. And they're now well placed to hike risk exposures from stocks to junk bonds in a bid to redress this year's underperformance, according to the Japanese bank.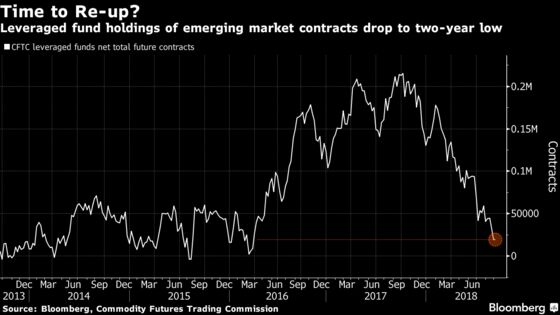 The smart-money cohort are down 1.5 percent for the year -- on track for the worst run since 2015 -- compared with a 2.4 percent average gain over the past six, according to Hedge Fund Research's global index.
Pulling back leverage would have curbed losses in sell-offs, but it can also prevent managers from harvesting bigger gains in uplifts.
Hedge funds "are likely to seek opportunity to take more risk -- or resume to increase their leverage ratio -- to enhance their performance sooner or later," said Takada.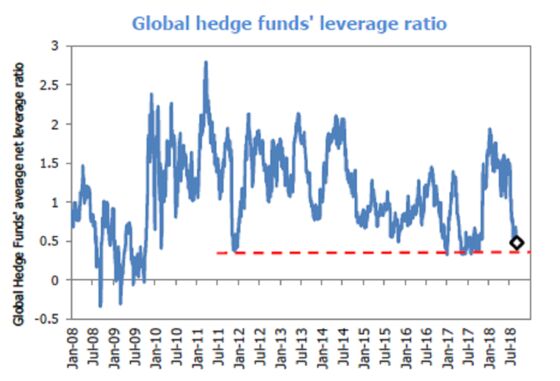 Take emerging markets, where currency volatility and economic drama from Turkey to Argentina have pushed developing nations close to bear-market territory.
Leveraged managers like hedge funds held the fewest developing-economy index stock futures since 2016, according to Commodity Futures Trading Commission data last week.
With the MSCI all-country index little changed on the year, a rally that pushes the asset class into the black -- in concert with subdued volatility -- could drive trend-follower allocation, according to Nomura.
A replay of bullish dynamics seen in the latter half of 2017 could even be in store.
"We think the worst could be over as far as hedge funds' activities are concerned," Takada said.