ETF Investors Are Switching Credit Risk for Interest-Rate Danger
(Bloomberg) -- Corporate bond traders are playing hot potato with risk.
Nearly a billion dollars fled the two largest ETFs tracking high-yield bonds last week, the biggest outflows since June, as investors re-assess how much credit risk they're willing to stomach.
But while they're cooling on lower-rated credit they're apparently more comfortable dicing with duration danger. More than $630 million was added to the iShares iBoxx $ Investment Grade Corporate Bond ETF, ticker LQD, in the same period. LQD has a duration of around eight-and-a-half years, more than twice that of SPDR's JNK fund and its iShares high-yield counterpart, HYG.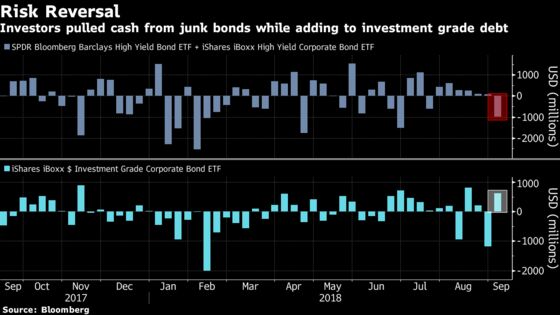 Until now, fleeing duration in the face of monetary tightening has been one factor behind the outperformance of junk bonds versus investment-grade debt this year. HYG has returned 1.62 percent in 2018, versus a loss of 3.45 percent for LQD.