ETF Buyers Hunting for Yield Bet on Treasuries 
(Bloomberg) -- Investors are piling into a fund focused on long-duration Treasury bonds amid bets that interest rates on short-term U.S. debt will stay low.
The iShares 20+ Year Treasury Bond ETF, known as TLT, took in $1.6 billion last week, the most since September 2017. The fund also posted five straight days of inflows, the longest streak in almost a year.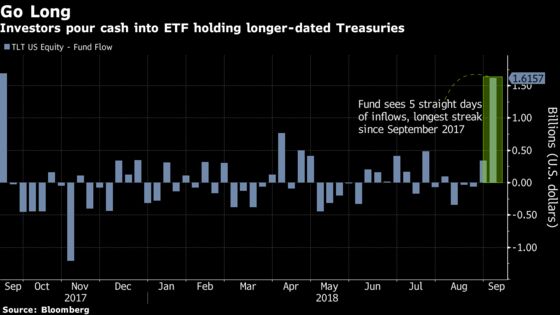 TLT is popular with institutional investors looking for short-term bets, making it more of a trading vehicle than an investment vehicle, according to Mark Hackett, chief of investment research at Nationwide Funds Group.
The trades were probably executed by one or two institutions that are taking a conservative approach entering the fall, said Mohit Bajaj, director of exchange-traded funds at WallachBeth Capital. The use of ETFs by institutional players has been growing, with total assets held by pension funds more than doubling between 2016 and 2017, according to data compiled by Deutsche Bank.
Hackett noted that although investors think they're being safe by holding fixed-income securities, using longer duration bonds to chase yield still is a risk.
"You're playing with fire a little bit there because, ironically, if you have a longer-term time horizon, you can get a 2 percent dividend yield on the S&P 500 and you're going to go up over time," Hacket said in an interview at Bloomberg's New York headquarters.