Apollo and Bain Find the Plastic Fantastic
(Bloomberg Opinion) -- When the chairman of U.K. packaging group RPC Group Plc moaned about his shareholders a few weeks ago, he strangely didn't get the same attention as Elon Musk after the billionaire suggested he would take Tesla Inc. private. But RPC's rescue call was heard by Apollo Global Management LLC and Bain Capital. The two leveraged buyout firms have responded in haste.
RPC makes plastic packaging for things that can't be put in paper or glass. The industry is consolidating, and RPC has been buying: It tapped shareholders for 552 million pounds ($714 million) last year to help fund its purchase of Letica Group.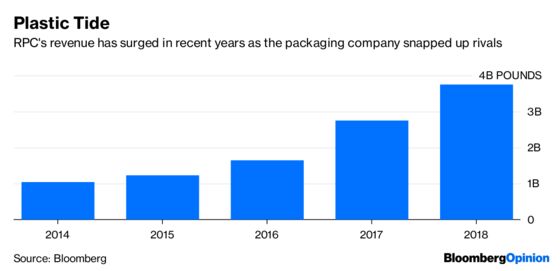 Over the last 12 months, the shares fell by roughly a third amid concerns about RPC's breakneck acquisitions and growing public opposition to single-use plastic. There were also doubts about the pace at which paper profits were turning into hard cash. While net debt is a seemingly manageable twice Ebitda, the short-sellers have massed.
At July's annual shareholder meeting, Chairman Jamie Pike said the pressure on the share price and divergent shareholder views on leverage were constraining the RPC's ability "to pursue some attractive opportunities" — that is, do more deals. RPC would prioritize cash generation and asset sales. This defensive strategy is clearly being imposed by the market rather than chosen by management. The music has stopped, and so has the dancing.
This situation isn't sustainable. RPC either needs new management, new investors, or both. Bain's interest shouldn't come as a surprise. It agreed to acquire luxury packaging maker Fedrigoni in December, and is buying Esure Group Plc partly because the stock market has fallen out of love with the U.K. insurer.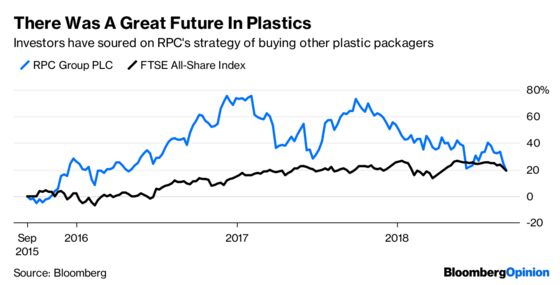 A 30 percent takeover premium for RPC would imply a deal at 889 pence per share, still about 10 percent below the stock's one-year high. Add assumed net debt and the take-out price would be 4.8 billion pounds, a measly 7.7 times forward Ebitda. RPC's peers trade on 9.9 times, according to research by JPMorgan Chase & Co.
It appears that Apollo and Bain are working separately. Even if an auction develops, buyout firms remain mindful of the need to avoid overpaying to preserve the returns — just look at the failure of IWG Plc to secure a deal after talks with multiple buyout firms earlier this year.
RPC looks keen to wrap this one up — but its suitors have the upper hand. Given the concerns in the market, if they do due diligence and walk way, the stock could be badly punished.
This column does not necessarily reflect the opinion of the editorial board or Bloomberg LP and its owners.
Chris Hughes is a Bloomberg Opinion columnist covering deals. He previously worked for Reuters Breakingviews, as well as the Financial Times and the Independent newspaper.