Rupiah's Newfound Volatility Isn't What Traders Wished For
(Bloomberg) -- Volatility for the Indonesian rupiah may have jumped to the highest in almost two years, but a lack of two-way trading has made the move hard to profit from.
As the rupiah tumbled to its weakest since the Asian financial crisis in 1998, there's been an avalanche of sellers but few parties wanting to take the other side apart from the central bank.
"Volatility is always good for trading but the direction seems to be only on one side so it's not ideal," said J. Suresh Sundaram, a currency strategist at CIMB Bank Bhd. in Kuala Lumpur. "Demand is skewed to one side with the central bank standing on the other, so traders are reduced to providing liquidity rather than actively making markets."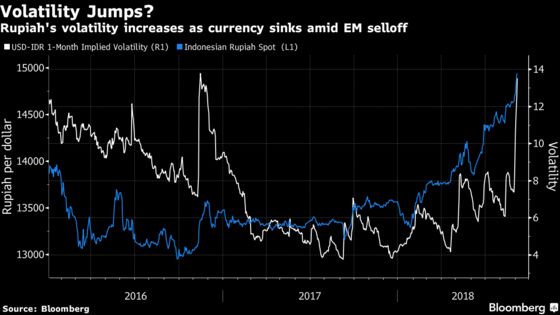 One-month volatility in the dollar-rupiah pair jumped to an almost two-year high of 13.5 last week, up from as low of 3.6 a year ago, as Indonesia's currency found itself swept up in an emerging-market selloff. The rupiah itself has slumped almost 9 percent this year and touched a 20-year low of 14,945 per dollar on Sept. 5.
The rupiah is now Asia's most volatile currency, according to data compiled by Bloomberg, reclaiming a title it held before a series of central bank measures stifled trading last year.
Still, the renewed volatility is far from what traders were hoping for when markets were becalmed in 2017.
"We love volatility if we can hedge it and make money off it, but hedging EM risk in this climate is like playing Texas hold 'em poker," said Stephen Innes, head of trading for Asia Pacific at Oanda Corp. in Singapore. "I hate floating money on a wing and a prayer without knowing if I can get out of my position without paying airport currency spreads."
Overseas investors have cut Indonesian bond holdings by $951 million this month as financial turmoil in Turkey and Argentina, and an expected rate hike by Federal Reserve has fueled a selloff in developing-nation assets.