Funds Resume Gold Bear Bet Before Jobs Dent `Worst Is Over' View
(Bloomberg) -- Gold's nascent recovery may have already been dealt a knockout blow.
Hedge funds have resumed their bearish bets in bullion futures and options, with the short position rising 0.5 percent in the week ended Sept. 4, according to Commodity Futures Trading Commission data released Friday in Washington. Bears bets had fallen in the prior week for the first time since mid-June.
The funds' move came before a burgeoning rally in gold was cut short, sending prices to an eighth weekly loss in nine as a report Friday showing faster U.S. hiring and wage growth crimped demand for the metal as a haven. The jobs data halted gold's bid for a third straight daily rise as easing dollar gains and emerging-markets turmoil had rekindled some of the metal's haven appeal.
The employment data signal "that the recent gains are not sustainable" in gold, said Walter "Bucky" Hellwig, who helps manage $17 billion as senior vice president at BB&T Wealth Management in Birmingham, Alabama. "As long as the Fed is in a rate increase mode, that's going to be a headwind for the price of gold."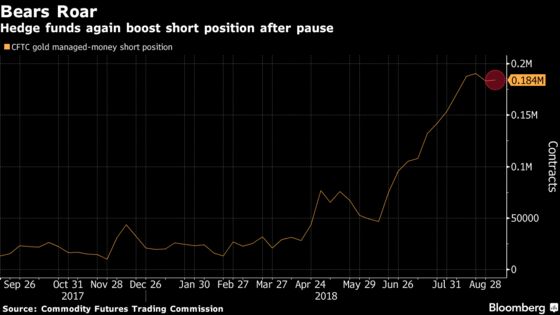 Bullion futures for December delivery fell 0.3 percent to settle $1,200.40 an ounce on Friday on the Comex in New York, bringing the week's slide to 0.5 percent.
The metal has posted five straight monthly losses as improving global economies and signs of inflation spur bets on tighter U.S. monetary policy. Higher rates damp the appeal of the metal because it doesn't pay interest.
Nonfarm payrolls rose 201,000 in August, a Labor Department report showed Friday. The median estimate of analysts surveyed by Bloomberg called for a gain of 190,000 jobs. Average hourly earnings increased 2.9 percent from a year earlier while the jobless rate was unchanged at 3.9 percent, still near the lowest since the 1960s.
For those betting that prices would bottom around $1,200, the report "doesn't help in any way," said Kevin Caron, a senior portfolio manager at Washington Crossing Advisors, which oversees over $2 billion. "If you had a real weak print on jobs, that could lead to thoughts that maybe the Fed would back away from rate increases, so therefore the dollar would have lots of reasons to weaken. That's not what we saw today."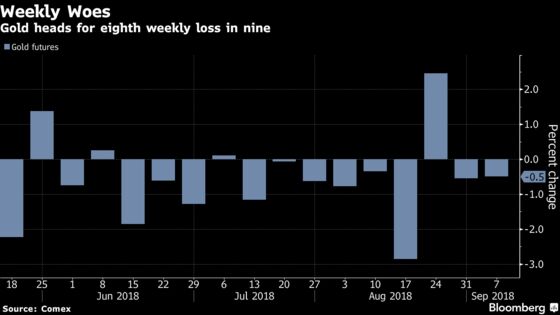 That may be bad news for ETF investors. ETFS Physical Gold, the fourth-largest such fund backed by bullion, attracted $56 million in the week through Thursday after a $14 million outflow the previous week. On Thursday, investors poured $12 million into Perth Mint Physical Gold ETF, boosting total assets by more than half in the fund that was listed just three weeks ago.
The jobs data "show that the worst is not over for gold," Hellwig said. "The patient is not terminal," but it remains "a poor performer relative to other assets, and clear signs of a recovery have not been seen. I can't see a lot of tailwinds for gold."