Japan's Central Bank Won't Tweak Policy Again Any Time Soon, Ex-Official Says
(Bloomberg) -- Bank of Japan watchers can rest easy and enjoy a late summer holiday because it won't be making another policy tweak any time soon, according to a former BOJ official.
"It will take time for the BOJ's next policy step given the need for a consensus from the nine board members," said Takashi Kozu, who held a wide-range of positions at the central bank and was a member of the Basel Committee on Banking Supervision from 2006 to 2010. "The BOJ has reached a limit to the ambiguous rhetoric used in July, which can't be repeated anymore. The next move will have to be explained based on fundamentals."
That will prove to be challenging, Kozu, who is now president of the Ricoh Institute of Sustainability and Business in Tokyo, said in a Sept. 5 interview. He sees the domestic and global economy turning a corner and entering a phase of lower growth in the near future.
The BOJ's policy adjustments in July were the first in two years to its massive monetary stimulus program, setting it up for the longer haul while taking steps to reduce side effects. Inflation remains less than half way to its goal after more than five years of extraordinary stimulus. Japan's economy grew at a faster pace than first estimated in the second quarter, according to data Monday.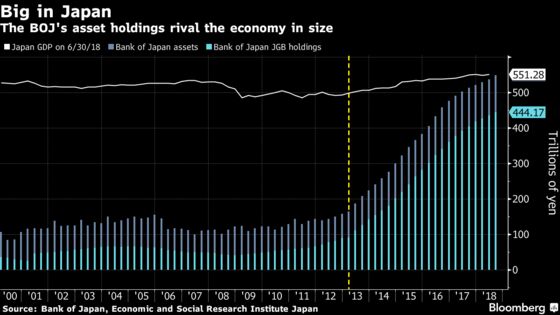 "What most worries the BOJ now may be whether it can survive the next cyclical trend without doing anything additional, when Japan faces the need to adopt economic policies to strengthen growth next year," he said. "There is a risk the BOJ is left with no policy options."
Efforts to steer monetary policy toward normalization will stall as reliance on external demand makes the economy vulnerable to a global downturn, he said. Fear of yen appreciation will also prove a hurdle, he added.
Should the central bank's hands be tied, the damage to local financial institutions, the government bond pricing mechanism and Japan's fiscal discipline will become more evident, according to Kozu.
Governor Haruhiko Kuroda launched a policy of unprecedented monetary easing in April 2013 soon after taking office, pledging to achieve 2 percent inflation in two years with massive bond purchases. Since then, the BOJ adopted a minus 0.1 percent policy rate in early 2016, before shifting its focus toward yield curve control and scrapping the two-year time-frame for the price target. Even so, consumer prices still hover around 1 percent.
The policy changes haven't always been fully endorsed by the central bank's board members. Goushi Kataoka and Yutaka Harada have been consistent dissenters in votes, calling for further stimulus if required.
As reaching the inflation goal may require several economic cycles and needs to be kept to stem upward pressure on the yen, the BOJ's next "most practical" step would be to further widen the yield range as it did in July, but at higher levels, according to Kozu.
"The lower end can be set at zero and let yields swing freely within a band," he said. "Variables for where yields settle change depending on the economic situation, so the BOJ should allow for a wide swing in a cycle."
Wider swings would help gradually reduce the risk of triggering a sharp rise in yields when the time comes for the BOJ to normalize policy fully, according Kozu, who flagged the idea in a book published in April.
The central bank said it would allow Japan's benchmark 10-year yield to trade as much as 0.2 percent above or below its zero percent target, from 0.1 percent previously, as part of its July tweaks.
"Major central banks probably feel the need to normalize and the BOJ did the best it practically could this time to reflect that, even if it was insufficient," Kozu said. "The BOJ will pause for a while, and the risk of side effects will accumulate."