There's One Outlier to European Stocks' Terrible Week
(Bloomberg) -- European stocks are having a really bad week, with one outlier: Italian banks.
The Stoxx 600 Banks Index was the region's only gaining sector this week through Thursday. Italian lenders, battered recently by concerns that the nation's budget will suffer under the new government's expensive electoral promises, were the top performers.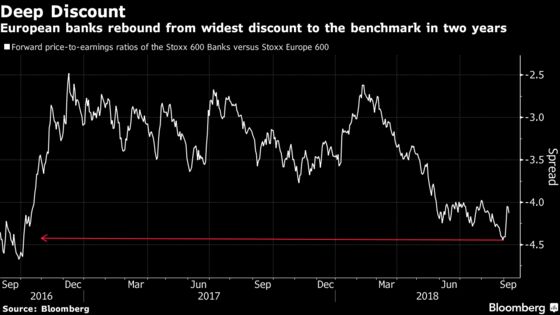 A combination of factors fueled the sector's recovery this week: valuations are at a two-year low, several market players, including Barclays Plc, called the selloff overdone and Italian populists tried to reassure the market by promising to respect all European Union fiscal restrictions. Even so, according to Crossbridge Capital LLP, investors holding Italian banks may still need protection from a higher source as volatility is likely to persist.
"If you are long Italian banks, keep a prayer on your lips as the moves will be wild," said Manish Singh, the London-based chief investment officer at wealth-management firm Crossbridge Capital, who is long Intesa Sanpaolo S.p.A. -- a position he'd like to exit. "No sustainable rally in Italian banks can take place until economic growth improves."
Problems surrounding Italian lenders are far from over, with UniCredit SpA and Intesa among five assigned a negative outlook by Fitch Ratings earlier this week. Also, the EU warned that populist leaders in Rome need to strengthen their country's finances or risk jeopardizing Italy's position at the center of European affairs.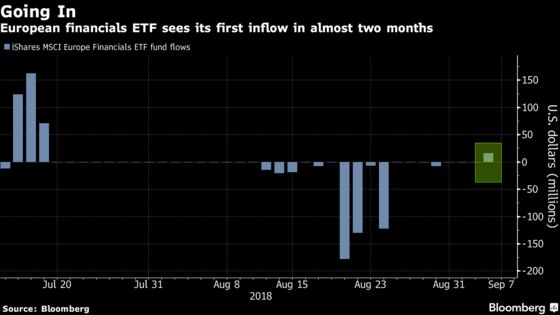 Italian banks' standout performance this week was emphasized by negative news weighing on major European lenders. ING Groep NV is the biggest decliner after agreeing to pay 775 million euros ($900 million) to settle an investigation by the Dutch prosecutor into issues including money laundering and corrupt practices.
Danske Bank A/S has lost more than 2 percent this week as it completes an internal investigation into allegations its Estonian operations were used to launder billions of dollars in illicit funds. Deutsche Bank AG and Commerzbank AG have lost more than 2 percent since being ousted from key equity indexes this week.
The Stoxx 600 Banks Index is the worst performer in Europe this year, with a drop of 16 percent, primarily due to disappointment among traders that the European Central Bank will keep rates on hold until at least through the summer of 2019. Concerns about the fallout from the Turkish currency crisis have also weighed on sentiment.
"In a nutshell, I find banks oversold at the moment and believe a lot of uncertainty with regard to Italy and Turkey is in the price, while fundamentals are not that bad," said Emmanuel Cau, head of European equity strategy at Barclays in London. "I believe the sector should rebound in the near term, but medium-term outlook still looks challenging. The ECB is unlikely to hike rates in a hurry and macro fundamentals remain fragile in periphery."
Still, the iShares MSCI Europe Financials ETF had its first inflow this week in seven, signaling appetite is returning. And some investors, like Franklin Templeton, see the volatility as a chance to add to their investments.
"Focused on the long term, we are trying to profit from short-term volatility or indeed add European banking stocks," said Dylan Ball, head of European equities at Franklin Templeton. "Currently we believe that some of this volatility is providing an opportunity to top up some of our positions."