Tech, Trade War Break S&P 500's Momentum
(Bloomberg) -- Returning from vacation is a drag -- in life, in stocks. True to form, September started with the worst S&P 500 retreat since June.
Anyone hoping last month's momentum would persist was disappointed. After hitting a record on Aug. 29, the index has fallen on five of six days, with the twin tech pillars of semiconductors and the FAANGs leading the way.
Historically, volatility is lower than average during the summer months before September flips the switch, according to Vinay Viswanathan, a derivatives strategist for Macro Risk Advisors. While realized volatility is typically suppressed from April through August, September marks a turn, and the month has been more volatile than the overall average dating back to 2007, data show.
So maybe it's no surprise that concerns investors could live with in August became harder to shake off. They included routs in emerging markets, a trade spat with China and scrutiny of tech companies at home that became too much to handle this week. It was a crack in what's become known as the America First trade, where the rest of the world's problems were seen as buttressing the U.S.
"The longer the divergence goes, the more it leaves the U.S. market vulnerable," said Bruce Bittles, chief investment strategist at Robert W Baird. "The fundamentals have been strong in the U.S, but it's not a healthy environment when there are few tech stocks holding the market up and then one or two of them are becoming vulnerable. We are advising our clients to take a more cautious approach."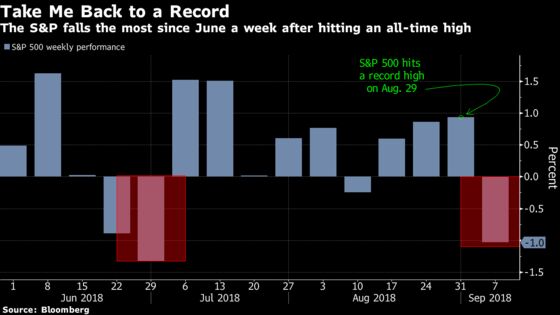 Losses in the S&P 500 were accompanied by a rotation into defensive companies and away from consumer discretionary and tech, this year's best-performing sectors. The Cboe Volatility Index jumped to a two-month high as the S&P 500 Index fell 1 percent over the four days, only the second decline in 10 weeks.
Worsening trade tensions didn't help. Proposed tariffs on $200 billion in Chinese goods President Donald Trump is finalizing could yank 5 percent from the S&P 500, according to UBS AG's Keith Parker. The S&P widened losses at midday Friday after the administration threatened to slap tariffs on an additional $267 billion in Chinese goods on top of the ones already announced.
A more imminent threat is weakness in tech megacaps, the market darlings since the 2016 presidential election. An index tracking Apple Inc., Facebook Inc., Netflix Inc. and Google Inc.'s parent Alphabet sank the most in 24 weeks after congressional hearing in Washington raised bets the sector could face a tougher regulation.
"Whenever the specter of Washington shines on an industry or a stock, you can almost be assured that there's going to be underperformance," Hank Smith, the co-chief investment officer at Haverford Trust, which manages $8 billion, said by phone. "Regulations just like tariffs are a tax, they are a cost, so that's part of the selloff."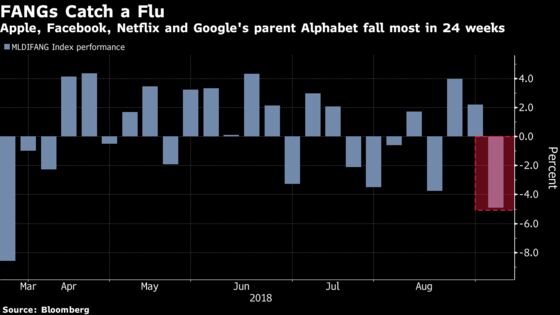 This weakness roiled momentum investors who bet past winners will keep going up, as the $10 billion iShares Edge MSCI USA Momentum Factor ETF retreated the most in 11 weeks. At the same time, there's was little evidence that the horrors being visited on some of the rest of the world's markets were spreading back to the U.S. Right now, the 8.9 percent decline in developing stocks this year through August compares with a 8.5 percent rally for the S&P. But history isn't on investors' side: this month has been the second-weakest of the year for S&P 500 companies over the past 20 years, data compiled by Bloomberg show.
All of these concerns can be probably be put aside if investors get a clear indication the U.S. economy is churning along, according to Quincy Krosby, chief market strategist at Prudential Financial Inc. The jobs data on Friday showed a healthy labor market that could clear the way for two more rate hikes this year. An increase on Sept. 26 is already baked in.
"Investors need a reinforcement that the economic underpinning for the market remains strong and solid," Krosby said by phone. "The earnings season is over, what investors really need right now is to see that the economy is gaining momentum that will help the market sustain the rate hike."