Mystery Treasury-Options Trader Bags $10 Million on Jobs Report
(Bloomberg) -- Friday's stellar U.S. jobs report made at least one bond trader's weekend a lot sweeter, to the tune of $10 million. That's how much an opportunistic options player made on a single trade as Treasury yields soared.
The buyer of put options on 10-year futures ponied up almost $2.5 million for the bearish bet, with the note's yield at about 2.88 percent. For it to make money, yields needed to reach 2.90 percent by the end of the day. As it turned out, the report's bigger-than-expected increase in average hourly earnings propelled the 10-year yield to almost 2.95 percent, resulting in a tidy 500 percent profit on the trade.
Here is how the trader did it: At 8:06 a.m. New York time, with the 10-year note futures contract trading around 120-06, 50,000 September Week 1 120 puts were bought at a price of 3 ticks. With open interest in the option only about 12,000 contracts, the trade is consistent with a new position. The 120 strike corresponds roughly to a 2.90 percent yield. As the underlying futures price slid to 119-19, the option's price jumped to around 16 ticks, according to traders in New York, and the value of the position to $12.5 million.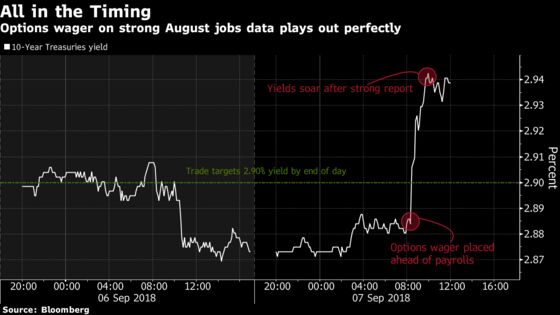 With 10-year yields having reached the cheapest levels since Aug. 9, the trader may want to cash out of the options instead of waiting for them to expire in-the-money. Either way, picking up the tab for Friday night drinks is not too much to ask.