Emerging Markets Gird for Tariff Announcement as Rout Hits Pause
(Bloomberg) -- President Donald Trump's announcement that he's ready to impose tariffs on an additional $267 billion of Chinese goods dampened a rebound in emerging-market assets led by the most beaten-down countries.
The Turkish lira, Argentine peso and South African rand helped lift the MSCI's gauge of developing-nation currencies on Friday, while the MSCI Emerging Market Index rose for the first time in eight days after crossing the threshold of a 20 percent decline that marks a bear market on Thursday. The offshore Chinese yuan, Chinese ADRs and exchange-traded funds fell after Trump said the new tariffs could come on short notice.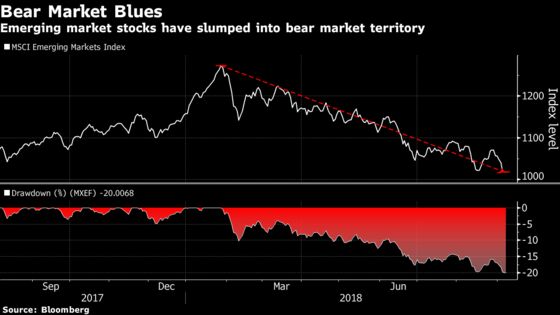 "The overall background remains fragile," said Bertrand Delgado, an emerging-markets strategist at Societe Generale in New York, saying Friday's rebound was largely tactical. "Today, the main gains are from Turkey, Argentina and South Africa, while the rest of EM is down, so I wouldn't be so upbeat."
Investors need to decide how much tariff risk is already priced into markets, what the impact of U.S. measures might be on global growth, and whether China will retaliate. Contagion concern is at the fore after the most vulnerable developing economies -- Argentina and Turkey -- fell into crises.
The Trump administration may roll out new tariffs in phases. It waited about three weeks after announcing in mid-June that it was imposing tariffs on $34 billion of Chinese goods before they were implemented. The next stage of tariffs on $16 billion of goods took effect in August.
MSCI Emerging Markets Currency Index snaps four days of declines
MSCI Emerging Markets Index halts seven-day slide, climbs 0.3% 
CBOE Emerging Markets ETF Volatility Index rises 10% on the week
Risk premium on EM sovereigns -4bps to 368bps: JPMorgan indexes
"EM 'domino' stress and contagion are likely to remain elevated in the coming weeks, even as some of the most distressed assets, namely ARS and TRY, may have hit overshooting levels already," analysts at Banco Santander, including Rodrigo Park and Juan Arranz
The drag for most emerging-market stocks had been a result of the jitters brought about by worries of contagion and risks of further trade frictions surrounding the U.S. Not to mention, the Fed's tightening path keeps the pressure on and confidence low for regional markets, said Jingyi Pan, a market strategist at IG Asia Pte. in Singapore
We retain a neutral bias on emerging markets and they're at a crossroads in terms of more attractive valuation and much lower positioning after the abrupt sell-off. But the headwinds remain in terms of the continued dollar rally, while the earnings outlook continues to disappoint relative to U.S. equities, according to Ben Luk at State Street
"I'm watching the Shanghai Futures Exchange as that is providing a good read on local expectations for commodity prices and the current carnage does suggest those markets are also looking at a softer economic outlook in China," said Stephen Innes, head of trading for Asia Pacific at Oanda Corp. in Singapore, adding he remains a seller on rallies in this environment
ARGENTINA:

Merval Index dipped less than 0.05 percent to 29,941.26 a
Peso trimmed intial gains and rose 1 percent to 36.99 per dollar
Argentina Is Said to Cut Shale Gas Subsidies on Fiscal Pressures
Argentina Proposes Major Central Banks Buy EM Sovereign Bonds
Argentina Won't Levy Dumping Tariff on Indonesia, India Textiles
'Bulk of Weakness' is Past in Argentine Bonds: Morgan Stanley

BRAZIL:

Presidential front-runner Bolsonaro was transferred to Sao Paulo hospital after being stabbed on Thursday, one day prior to national holiday; stocks, currency and sovereign bonds have all rallied on speculation Bolsonaro will get sympathy boost to elevate him ahead of left-wing Workers PartyTop real forecaster says attack may buoy Brazilian assets if Bolsonaro's chances of winning are boosted
Initial reading of the incident was that it will help bolster his campaign and extend his lead
iShares MSCI Brazil ETF, biggest Brazil's stocks ETF, rose 1.8 percent
Brazil's 5-year CDS spread fell 1 bp to 280 bps
Other presidential candidates suspended campaigns after attack

MEXICO:

Mexbol index increased 0.2 percent to 48,816.48
Peso declined 0.7 percent to 19.3215 per dollar
10-year local-bond yield gained four basis points to 8.052 percent
AMLO says oil auctions will continue, in the first signs that he is backtracking on plans to scale back the country's historic 2014 energy reforms
Freeland Says Canada, U.S. Continue Detailed Work on Trade Deal
Turn Towards Mexico Corporate Bonds, Away from Brazil: Mizuho

Click for market news on ANDES
TURKEY:

Borsa Istanbul 100 Index increased 0.6 percent to 93,274.15
Lira advanced 3.2 percent to 6.3815 per dollar as speculation grows central bank will raise interest rates next week to backstop battered assets
Erdogan warned of a looming "catastrophe" as Syrian troops prepare for the last major battle of a seven-year civil war
Lufthansa's Turkish JV Trims Domestic Routes Amid Lira Collapse

SOUTH AFRICA

FTSE/JSE Africa All Share Index dipped 0.1 percent to 57,068.45
Rand advanced 0.7 percent to 15.2318 per dollar
9-year local-bond yield fell five basis points to 9.146 percent
South Africa's ruling party pledged to tackle land reform responsibly
South Africa Gross Reserves Fall to Lowest Since April in August
Standard Bank Revises Rand Forecasts Weaker as Growth Falters

RUSSIA:

MOEX Russia Index increased 0.1 percent to 2,321.82
Ruble declined 0.9 percent to 69.9075 per dollar
10-year local-bond yield gained 10 basis points to 8.89 percent
Sergei Skripal May Have Worked With Spanish Intelligence: NYT
Russia's Finance Ministry has no plans to buy back ruble debt known as OFZs
Russian bond yields climbed above South Africa's for first time since 2016
Commerzbank Asks If Russia Is Taking Erdogan's Path to Crisis
Morgan Stanley Sees Foreigners Avoiding Russian Bond Auctions

Click for market news on POLAND and HUNGARY
CHINA:

Shanghai Composite Index increased 0.4 percent to 2,702.30
Offshore yuan was declined 0.3 percent to 6.8675 per dollar
10-year local-bond yield gained one basis point to 3.6475 percent
China has announced measures to support some of the exporters targeted by the U.S.
China Reserves Steady as Yuan Declines Fail to Trigger Outflows
JD.Com Founder's Iron Grip, Legal Woes Leave Investors in Dark

INDIA:

Sensex Index increased 0.4 percent to 38,389.82
Rupee gained 0.4 percent to 71.736 per dollar
10-year local-bond yield fell three basis points to 8.0297 percent
India's current-account deficit widened in the April-June quarter from a year ago, on account of a larger trade gap
India ETFs Get Surge of Cash as Contagion Fears Prove Unfounded
India Crackdown Said to Put 12 Power Assets at Bankruptcy Risk
Weak Rupee to Cost India $9.5 Billion More to Repay FX Debt

Click for more on markets in ASIA