U.K. Stocks Haven't Been This Cheap Since WWII by This Measure
(Bloomberg) -- By one measure, U.K. shares are cheaper than they've been since World War II. But investors can keep their chins up, given a likely Brexit deal and a continued earnings recovery, Citigroup Inc. said.
The gap between the market's dividend yield and bond yield has never been as wide since then, signaling the appeal of British stocks, as long as earnings are on the up and up, strategists led by Jonathan Stubbs wrote in a note. The good news is that estimates show U.K. earnings poised to rise, and a Brexit deal is still likelier than not, though the risk of a no-deal outcome isn't insignificant, they added.
Caution over the future of the country's economic ties with Europe has suppressed equity valuations since the 2016 vote, especially with foreign investors fleeing the market. Politics have overshadowed solid fundamentals: higher oil prices and the weaker pound have boosted earnings, and economic growth hasn't collapsed. U.K. shares also boast some of the world's highest dividend yields.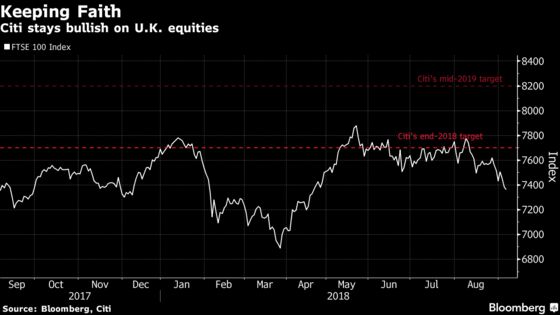 By other measures, such as the dividend yield on its own, U.K. stocks aren't especially cheap versus the long-term average, the strategists said. Citi is overweight on oil, banks, food retail and industries, underweight on general retail, tobacco, utilities and media.