Top Indian Hedge Fund Raises Cash to 65% Due to Rupee Weakness
(Bloomberg) -- India's top hedge fund has raised its cash holdings to a record 65 percent of its assets as the rupee hit multiple lows amid a selloff sweeping developing nations.
The Avendus Capital Alternate Strategies' Absolute Return Fund, the nation's biggest hedge fund with $600 million in assets, raised its cash levels from 20 percent in February, Andrew Holland, Chief Executive Officer at Avendus, said in an interview.
"Our fund tries to protect capital first and not just chase market returns," said Holland, who oversees $1 billion in hedge fund assets. "So we turn to cash to protect capital when risks are high or there are several moving parts."
While economic growth topping 8 percent and a recovery in corporate earnings has made Indian stocks Asia's top performers this year, the nation hasn't been immune to outflows. Elevated prices of oil -- the country's top import -- weigh on the rupee, which in turn spurs foreigners to sell Indian assets. Offshore funds pulled $2.7 billion from local shares in the June quarter and more than twice as much from rupee bonds.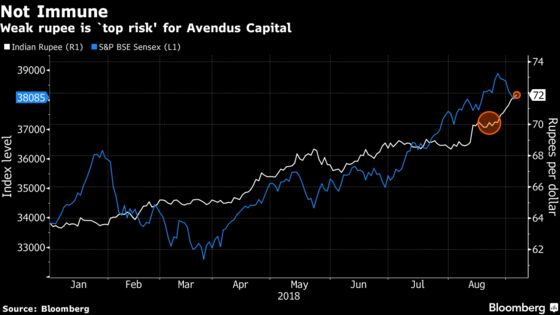 "Rupee weakness is the top risk we're watching out for," said Holland, who in April correctly predicted the currency would fall to 70 per dollar. The declines may extend if the trade tensions between China and the U.S. escalates, he said.
The Avendus Absolute Return Fund's cash holding is at the highest level since the fund began in March 2017. Among equities, Holland favors shares of software exporters, which he sees as beneficiaries of a weak rupee. The S&P BSE Information Technology Index has risen 39 percent this year versus a 12 percent gain in the benchmark S&P BSE Sensex Index.
"We are hunkering down for somethings to change and when it changes we should be able to deploy our cash," Holland said. "A stocks correction will give us that opportunity."