The Man Who Became Russia's Stockbroker
(Bloomberg) -- An obsession with volume turned an old-school rocker from Siberia, Oleg Mikhasenko, into Russia's largest stockbroker. Now U.S. sanctions are swelling his fortune by pinching his Kremlin-connected competitors.
Mikhasenko's BCS Financial Group has tripled trading income since 2014, when the U.S. and its allies first imposed financial penalties on Russia, as investors increasingly shun the two biggest state banks, Sberbank PJSC and VTB Group.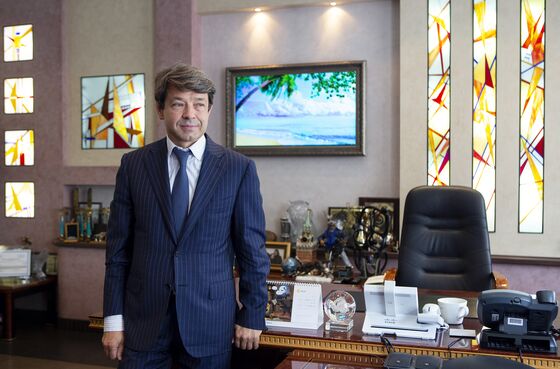 While $76 million in annual profit might be an afterthought on Wall Street, few brokerages can boast handling a quarter of the volume in their home market. BCS's 2017 results catapulted Mikhasenko's net worth to at least $630 million, according to the Bloomberg Billionaires Index—a lot by any standard but well below the threshold that would attract unwanted attention from the sanctions division of the U.S. Treasury.
The sole owner of Russia's fastest-growing investment bank had plenty to celebrate at the company's annual retreat in Altai, a mountainous region closer to Ulan Bator than Moscow. As Mikhasenko, 56, prepared to lead his troops down glacial-river rapids, he and his lieutenants kicked the campfire party into gear by grabbing a guitar from a group of shamanic throat singers and riffing out some classic Soviet jams.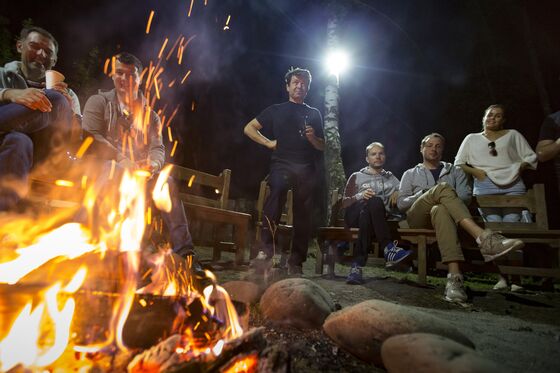 "We've gained some clients from the banks that are under sanctions," Mikhasenko said later in an interview in Moscow. "No one knows what's coming next. Will there be new sanctions or not? Everyone's looking at various options to protect their savings."

The former engineer has made a career out of finding niches to exploit in an industry dominated by banks and executives that often serve as instruments of the state. The lifelong iconoclast's rise in business shows that flying under the Kremlin's radar can pay off too.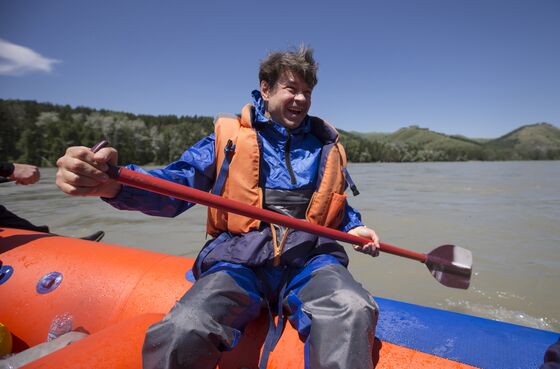 In 2016, as tensions with the West intensified, BCS acquired Alfa Bank JSC's American business from a group of Russian billionaires who are now on the Treasury's watch list. Earlier this year, Novosibirsk-based BCS became the only Russian broker with a seat on the New York Stock Exchange. VTB Capital, on the other hand, has been cutting staff in London and this week sold its U.S. operations, citing the "current geopolitical landscape."
Mikhasenko's holding company now employs about 4,500 people in four countries, including a dozen in the U.S. and about 40 in the U.K., where BCS just moved into bigger, more expensive offices in the City of London. BCS is also one of the few brokerages in Russia expanding its research division.
BCS may be the dominant mover of Russian shares, handling more transactions than its three biggest competitors combined, but its monthly volume in August, $7.3 billion, was less than Apple Inc.'s daily average. Even so, his robust pipeline for handling flows in and out of Russia may prove even more profitable if sanctions are ever eased.
"The Russian market's way too narrow, so any broker worth his salt needs to give local clients direct access to foreign exchanges," said Andrei Ivanov, who helps manage $450 million at Leon Family Office in Moscow. "That's why BCS's strategy to expand in London and New York makes sense. And betting on being the broker for foreign institutional investors, especially high-frequency traders looking for a direct line to the Russian market, provides great balance."
Meanwhile, BCS is benefiting from a record amount of domestic investors. Locals have increased the volume they trade on the Russian stock market by a third this year as their numbers swell, Alexander Afanasiev, chief executive of the Moscow Exchange, said in an interview with Bloomberg TV Thursday.
Like many of Russia's future billionaires, Mikhasenko got his start by snapping up vouchers, or stocks in former Soviet enterprises that workers received after communism fell. But while Muscovites like Mikhail Khodorkovsky used political connections to amass stakes big enough to seize control of the choicest assets regardless of location, he focused on Siberia, flipping small voucher pools as soon as he could form them.
Mikhasenko evolved in parallel with Russia's market, adapting BCS's infrastructure to meet the surge in demand from mom-and-pop investors that accompanied the expansion of the middle class and the rise of internet trading.

By 2002, his trading house was big enough to open an office in the capital, renting 20 square meters in an 18,000 square-meter building that BCS now fully owns and occupies. And by 2013, Mikhasenko was rich enough to go into investment banking—at a time Sberbank and VTB's lock on the industry looked unassailable.
When the U.S. and its European allies began imposing sanctions a year later, he was focused on bucking another trend by expanding westward. Counterintuitive or not, the bets paid off—successes Mikhasenko credits in part to one-man rule.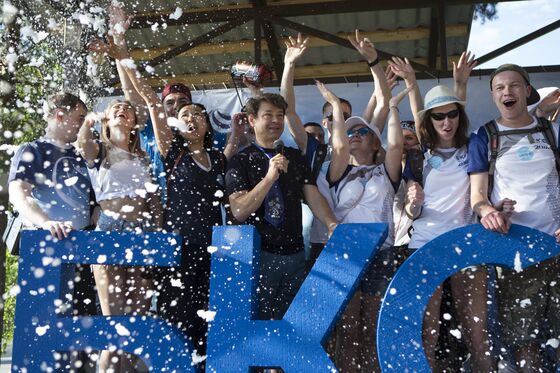 "If we need to invest, let's say $100 million to develop something, management just makes the case to me," he said. "At larger companies, they have to call a board meeting and jump through a bunch of hoops before they make the call."
Driving a Porsche Cayenne through snow leopard territory in the remote Altai wilderness, the tycoon said he relishes making systems bigger and better as much as he does making money. Those are goals that he shares with a core group of employees—19 of his first 20 hires are still with the company. They include chief technical officer Dmitry Kazanstsev, whose first assignment was to create an office network to play the Doom video game.
As the U.S. Senate debates what's been dubbed "the bill from hell"—essentially banning foreigners from buying Russian sovereign debt and locking its largest banks out of the dollar system—foreign lenders that once held sway in Moscow like Deutsche Bank AG and Credit Suisse Group AG are decamping. For Mikhasenko, these are opportunities to further expand his investment bank, which already accounts for 40 percent of BCS's revenue.
BCS is taking tentative steps to prepare the unit for an initial public offering. It would be the first time Mikhasenko ceded any control over any of his companies. But given BCS's size already, bringing in strategic shareholders and offering ownership options to longtime loyalists may be the best way to ensure future growth and maintain morale, he said.
"What's important is the next step," Mikhasenko said. "I don't really think about being a billionaire."