Inflation Sends Philippine Markets Down Amid EM Rout
(Bloomberg) -- Philippine stocks and the peso led declines in Asia after Wednesday's jump in inflation coincided with an intensifying emerging-market sell-off, and Jefferies Hong Kong Ltd. downgraded the nation's equities.
The Philippine Stock Exchange Index fell 1.5 percent at the close in Manila, taking its two-day decline to 3.1 percent. Around $7.2 billion in market value has been wiped from Philippine equities over the two days. The peso weakened 0.5 percent against the dollar and touched the lowest level in more than 12 years.
Inflation surged to a nine-year high of 6.4 percent year-on-year in August, beating all estimates. The data came as fears of emerging-market contagion from Turkey and Argentina spook investors.
"The central bank is perceived again to be behind the curve in reining in inflation," said Noel Reyes, chief investment officer at Security Bank Corp. in Manila. "At the rate things are going, the peso could hit 54 per dollar in the near term, which could be tomorrow or next week."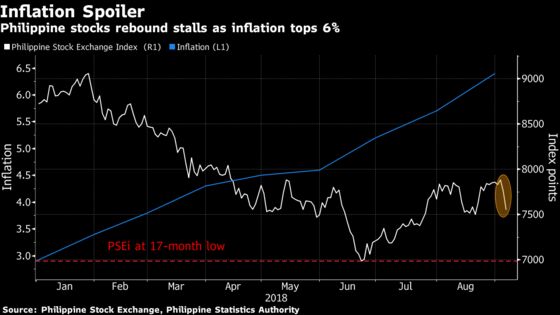 Philippine stocks were cut to bearish from moderately bearish within the global asset allocation of Jefferies, which said the central bank is falling behind its monetary objectives and valuations are expensive. "The chink in the growth story in the Philippines has been the rates of credit expansion and more recently inflation," Jefferies chief global equity strategist Sean Darby wrote in a report Thursday.
"Sentiments are very negative from a mix of local and foreign reasons" that include escalating domestic inflation and the U.S.-China trade war, said Steven Ko, a fund manager at Manila-based Rizal Commercial Banking Corp. "Many investors are raising cash now on the expectation that share prices will trend lower."
Ko said he's taking advantage of the sell-off by shifting part of his funds into stocks that are "undervalued" and have "under-performed" the index's rebound from a 17-month low in June. Philippine stocks are trading at 16.3 times 12-month estimated earnings, below the five-year average 17.7 multiple.
BDO Unibank Inc. and Metropolitan Bank & Trust Co. led declines among the nation's lenders after Macquarie Capital Securities Philippines Inc. analyst Gilbert Lopez cut the sector's rating to neutral from overweight on expectations loan growth will slow.
Overseas investors sold a net $19.4 million of Philippine shares Wednesday, bringing this year's outflows to $1.4 billion. The benchmark PSEi has declined 11 percent so far this year, among the world's 10 worst performers.