No Relief Seen for EM Currency Slump That's Lasted 155 Days
(Bloomberg) -- Don't exhale yet. Emerging-market currencies have further to fall, even after stumbling for 155 days, a slump unparalleled since the financial crisis, options trading suggests.
Bearish puts cost relatively more than bullish call options over a one-month horizon in most of the 19 major developing-market currencies compared with a week ago, according to benchmark risk reversals compiled by Bloomberg.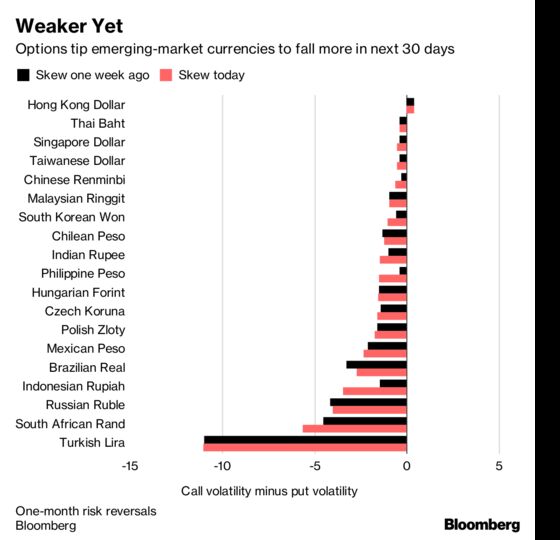 Option volatilities, a surrogate for prices, signal more pain is in store, even for currencies that edged higher on the spot market Thursday.
The bearish skew has become more pronounced for the South African rand and Indonesia's rupiah over the week, suggesting some of Thursday's gains may be little more than a dead-cat bounce. The Turkish lira's unenviable No. 1 position is little changed from a week ago.
Headwinds continue to gather for battered EM currencies. The dollar's dominance, which has drained the market value of developing-nation peers all year, may get renewed vigor from two more U.S. interest-rate increases forecast for 2018.
The gap between a JPMorgan Chase & Co. gauge of expected volatility in developing-nation currencies and a Group-of-Seven measure is at the highest since 2009.
Trade wars also threaten China's economy, long one of the engines of global growth. Today is the deadline for public input on tariffs targeting $200 billion of Chinese goods, with President Donald Trump expected to act on the measures soon after the deadline passes.
The options-market outlook is crucial for developing-market importers, who want to hedge their costs to buy foreign goods and services, and to investors and even central banks.
"The overall sentiment is still deteriorating," said Neil Wilson, chief market analyst in London for Markets.com, a foreign-exchange trading platform. "And with Fed tightening, the strong-dollar run is not over."