How Did Russia's Gas Goliath Get Beaten by Its David?
(Bloomberg) -- Imagine a decade from now, U.S. giant Exxon Mobil Corp. has been knocked from its perch as the world's largest oil company by its rival from tiny Portugal -- about 20 times smaller. It seems unlikely, but something equally strange has just happened in Russia.
State-run Gazprom PJSC -- the world's biggest natural gas producer -- was surpassed in market capitalization by the much smaller Novatek PJSC. Both Gazprom and Novatek declined to comment.
In 2008, the difference in Gazprom's and Novatek's market capitalization exceeded $340 billion. Now, both are valued around $50 billion: Novatek was even worth slightly more as of Thursday. If you look at the numbers, this makes little sense. Gazprom's vast natural gas reserves are close in size to North and South America's combined -- eight times that of Novatek.
The state-run company's revenues and profits are soaring this year as it supplies record volumes of gas to Europe. Yet, its stock-market value has stagnated over the past six years as its smaller rival has almost tripled.
Novatek's stock has been gaining as it expands its liquefied natural gas business. The gas producer and distributor is controlled by some notable Russian billionaires and co-owned by France's Total SA. Leonid Mikhelson is the company's chief executive officer and owns a quarter of it.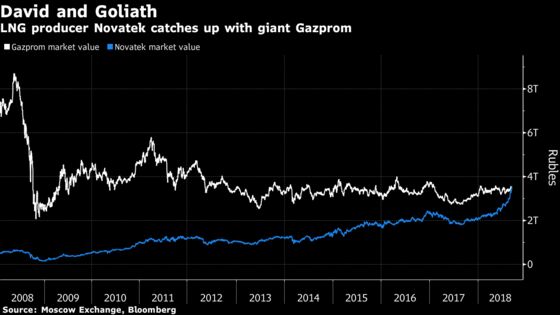 "Gazprom should be worth significantly more," said Rollo Roscow, a London-based analyst at Schroders Plc who manages the 1.1-billion euro ($1.28 billion) International Selections Emerging Europe fund. "Unfortunately, that business is not run for minority shareholders. It's run for the government, it carries out political projects with dubious returns."
Investors' concerns reflect Gazprom's higher tax burden and the duties it performs for the Russian state, which include billions of dollars of spending on domestic and international gas pipelines, sporting events and donations to charity within Russia.
In 2008, Gazprom Chief Executive Officer Alexey Miller said it could become the world's first trillion-dollar company. Since then, its market capitalization has plummeted, from more than $360 billion. Novatek meanwhile has more than doubled its value, increasing from less than $20 billion over the same period after tripling its reserves and boosting both revenues and profits more than seven-fold.
Gazprom
2017        2008
Novatek
2017       2008
Proved gas reserves*, tcm
18.3
18.2
2.3
0.7
Proved liquids reserves, mln tons
1,535
1,301
192
67
Gas output**, bcm
499
561
63
32
Liquids production, m b/d
1.66
1.23
0.24
0.07
Revenue, bln rubles
6,546
3,285
583
79
Net income, bln rubles
714
743
156
23
Net debt, bln rubles
2,398
1,018
90
15
* Under PRMS standards
** Including share in production of JVs, associated companies
Sources: Gazprom, Novatek, Bloomberg
Novatek found its niche five years ago by betting on LNG exports -- a less politicized industry than supplying the fuel by pipeline. This suits both investors, which saw the company starting its first LNG plant late last year on time and on budget, and the Kremlin as Novatek develops the country's Arctic gas reserves. It has also strengthened ties with Total and Chinese investors amid tensions between Russia and the West, which have resulted in several rounds of sanctions since 2014 .
The company became subject to U.S. sanctions which restrict its borrowing options. Mikhelson, now currently Russia's richest person with a fortune exceeding $20 billion, is not considered a "specially designated national" by the Treasury, but is on the so-called U.S. Kremlin list. His partner Gennady Timchenko, a longtime ally of President Vladimir Putin with an estimated worth of nearly $15 billion, was targeted by the first round of sanctions in early 2014.
"Novatek's strategy is driven by business considerations whereas Gazprom, being a monopoly, has social obligations," said Bloomberg Intelligence analyst Elchin Mammadov.