ETF Investors Keep Buying as Wall Street Warns Pullback Coming
(Bloomberg) -- Despite warnings from Wall Street that stocks are poised for a selloff, money keeps flooding into equity exchange-traded funds as investors bet that the recent pullback in the S&P 500 Index is just another opportunity to buy the dip.
The three largest ETFs tracking the S&P 500 took in a combined $6.6 billion on Wednesday, the most since Feb. 12, according to an analysis of Bloomberg data. This week's inflows into the SPDR S&P 500 Trust, iShares Core S&P 500 ETF, and Vanguard S&P 500 ETF -- which also happen to be three of the four biggest overall ETFs in the world -- are on track to be the most since September 2015, the data show.
The moves fly in the face of guidance from strategists at Goldman Sachs Group Inc. and Citigroup Inc., who urge caution as stock market valuations get stretched amid surging investor confidence.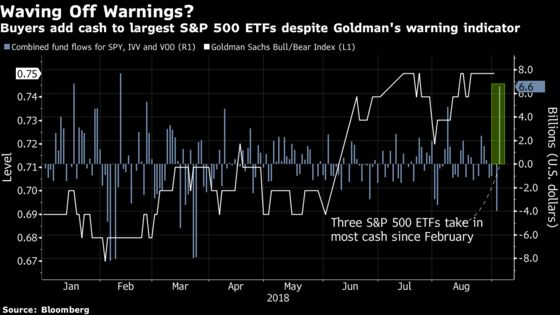 "Sentiment is very, very bullish right now no matter what reading you look at," said Paul Nolte, a portfolio manager at Kingsview Asset Management. "Obviously that has followed a nice rise in the market over the past couple months."
The majority of Wednesday's flows into three equity ETFs was driven by cash into the Vanguard fund, known by its ticker VOO, which took in a record $3.8 billion.
Peaking volume in buybacks, two consecutive quarters of 24 percent earnings growth and the fastest economic expansion in four years are fueling confidence in the bull market. Sentiment has climbed to levels that foreshadowed the year's worst rout, prompting Citigroup to caution that a pullback may be in the offing. And at Goldman Sachs, the firm's bull/bear market indicator has risen to alarming highs because of soaring valuations and a tight labor market, which points to accelerating inflation.
"Flows tend to follow market moves as opposed to lead market moves," Nolte said. "If something is doing well, then everybody looks at it and says, 'Oh, we've got to have some of that,' and piles into it."