China Mobile-Backed Thai Carrier Slides on $3 Billion Legal Spat
(Bloomberg) -- True Corp. slid the most in about two years after a tribunal said it must pay more than 94 billion baht ($3 billion) in a breach of contract case dating back to 2005, an order the firm said it will dispute.
The China Mobile Ltd.-backed carrier said in a filing late Wednesday this case isn't final and it intends to take legal action to revoke the order in favor of state-owned TOT Pcl. Thailand's second-largest wireless carrier also rejected a separate claim from the telecommunications regulator for a 3.4 billion baht payment related to the expiry of past concessions.
Disputes are suddenly sweeping over the Thai telecoms sector. Earlier Thursday, Total Access Communication Pcl said it's petitioned a court to allow customers to carry on using an 850 megahertz network after the firm's concession ends Sept. 15. The National Broadcasting & Telecommunications Commission is linking continued use to Total Access' participation in an upcoming 900 MHz spectrum auction. Total Access asked the court to revoke this condition.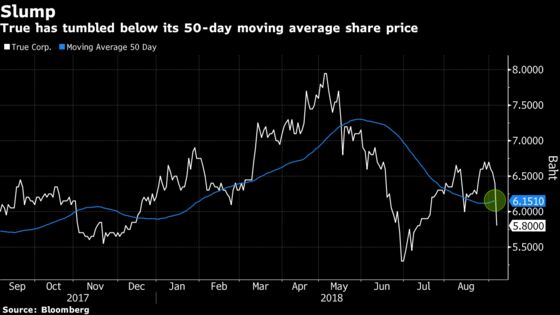 "Legal cases are hurting confidence in the industry," said Rattana Leenutaphong, an analyst at IV Global Securities Pcl in Bangkok. "For True, the company must fight every way it can to defend the case as the money is so big. Court cases tend to drag on for a long time and will add to uncertainty over the stock."
True slid 12.5 percent as of 12:12 p.m. in Bangkok, the worst performer among the top 100 companies on the benchmark SET index. Total Access was down 2.3 percent.
The telecom agency is due to announce on Sept. 12 whether Total Access will have to shut down its 850 MHz network, which the company argues would expose many customers to the risk of third-generation service disruption.
The regulator on Wednesday also said it's seeking 870 million baht from Advanced Info Service Pcl, the biggest Thai carrier, in relation to the expiry of past concessions.