As Tech Selloff Worsens, Options Traders Brace for More Bleeding
(Bloomberg) -- U.S. technology stocks are on pace for their biggest weekly drop since March, and someone in the options market is betting that things are going to get worse before they get better.
Hedging picked up Thursday in the Invesco QQQ Trust, an exchange-traded fund that tracks the Nasdaq 100 Index, as one investor bought quarter-end puts with a strike price of $174, initiating a bet the fund will fall 4 percent from current levels. It was the biggest trade of the day among all contracts on the $71.7 billion fund. While the ETF, commonly known as QQQ for its ticker symbol, has dropped more than 3 percent since the end of August, an additional 4 percent slump over the next few weeks would hardly be a unique selloff.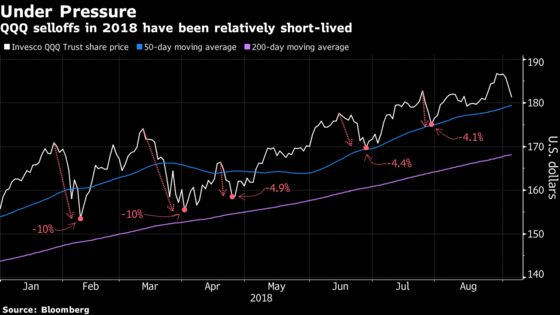 In 2018, the fund has fallen an average 6.8 percent from peak-to-trough five times, with the selloffs ranging from as long as six weeks to as short as seven days. Each recovery from a double-digit drop earlier in the year started well above the ETF's 200-day moving average. The more recent, shallower slumps found support at the 50-day line.
With large-cap technology companies such as Facebook Inc., which makes up 4.6 percent of QQQ's holdings, under scrutiny from the U.S. government, buying short-term protection through put options seems to be the right trade. If trends from earlier in 2018 continue, the latest technology selloff shouldn't last too long.