U.S. Traders Abandon Top Spanish ETF at Fastest Pace in 18 Years
(Bloomberg) -- U.S. investors fled Spanish stocks at the highest volume in almost two decades Friday amid concern the country's companies could be hurt by currency crises in emerging markets from Argentina to Turkey.
The second-biggest exchange-traded fund focused on the nation's equities, the iShares MSCI Spain ETF, posted redemptions of $237 million on Aug. 31. That's the largest one-day outflow from the $1.1 billion U.S.-based and U.S.-dollar priced fund since August 2000, according to data compiled by Bloomberg.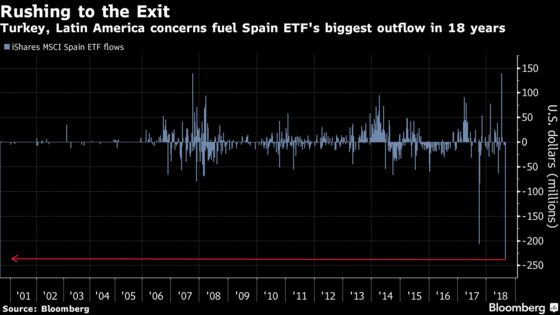 The plunge in Argentina's peso and Brazil's real, economic turmoil in Turkey and questions about the new Italian government's budget policies have been making investors wary of assets in Spain. The IBEX 35 Index slumped almost 5 percent in August, led by banking shares, which constitute about 30 percent of the ETF's top holdings. The stronger U.S. dollar also hasn't helped the appetite for euro-based assets.
"Spain sits uncomfortably close to both Italy and Turkey and therefore any deterioration in either situation presents significant headwinds for Spanish assets," said Benjamin Jones, a senior market strategist at State Street Global Markets in London. "Given the difficulty in assessing the politics in both those areas, it makes sense for investors to lighten positions in Spain."
Spanish companies are heavily exposed to Latin America's two biggest economies. Brazil is the largest market for Banco Santander SA, and that bank and competitor Banco Bilbao Vizcaya Argentaria SA both have a significant presence in Argentina. So does phone company Telefonica SA, which is also among the ETF's top holdings.
BBVA is seen as the most exposed European lender to the Turkish financial upheaval, according to Morgan Stanley. The lira's slide and the prospect of a recession have highlighted the risks for BBVA of relying on emerging markets for three-quarters of its profit. Turkey alone accounts for about 14 percent, thanks to the Spanish bank's stake in Turkiye Garanti Bankasi AS, one of the country's largest lenders.
Investors pulled money from European equity funds for the 25th consecutive week in the five days through Friday, bringing year-to-date outflows to $40 billion, according to Bank of America Merrill Lynch, which cited EPFR Global data. In contrast, U.S. equity funds posted inflows of $7.2 billion in the period, the largest growth in 11 weeks.
Although the iShares MSCI Spain ETF is U.S.-based and the fund's assets trade in dollars, the stocks it holds are denominated in euros, making investment moves sensitive to the U.S. currency's strength against its European counterpart. This may be another reason why American investors exited the fund.
"It would fit with the view that the dollar will continue to show strength," Jones said. "The currency move would be less of an issue for a domestic European investor," so "a rotation from European into U.S. assets makes sense."