Philippine Central Bank Weighs Action With Inflation at 6.4%
(Bloomberg) -- Philippine central bank Governor Nestor Espenilla said he will consider the need for more policy action after a report showed inflation exceeded 6 percent for the first time in nine years in August.
Consumer prices rose 6.4 percent from a year ago, the Philippine Statistics Authority said in an emailed statement on Wednesday. That exceeded the forecasts of all 15 economists in a Bloomberg survey. The official release of the data was delayed by more than an hour due to technical issues.
"We will weigh the need for further monetary policy action," Espenilla said in a mobile-phone message after the data. "It is most critical at this point to restore inflation back to the target range soonest and securely anchor inflationary expectations."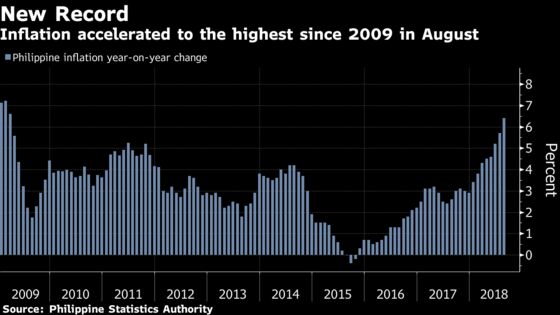 The governor described the August data as "beyond the acceptable target range," blaming higher rice prices and called on government agencies to step up efforts to solve supply bottlenecks. "These warrant more decisive non-monetary measures," Espenilla said.
With oil trading near $70 a barrel and rice prices remaining elevated, the central bank is under pressure to act even after delivering 100 basis points of rate increases since May. A weak currency is adding to price risks, and ING Groep NV and Natixis SA are among those calling for more rate hikes.
"There's a need for a further rate hike," said Jose Vistan, research head at Manila-based AB Capital Securities Inc. "It puts a lot of pressure on the Bangko Sentral ng Pilipinas to stay on the curve."
Click to read economists' comments on rate outlook
Philippine stocks slid the most in three weeks, dropping about 1.7 percent. The peso, which was little changed at 53.55 per dollar, had fallen 6.8 percent this year.
Inflation averaged 4.8 percent in January to August. The central bank's target is an annual average inflation of 2 percent to 4 percent from this year to 2020.
Prior to the August inflation data, most economists had stopped calling for another rate hike this quarter. The central bank will next meet to decide on interest rates on Sept. 27.
Click to see the results of the Aug. 17 to 23 survey
Food and non-alcoholic beverage costs rose 8.5 percent from a year earlier, while transport costs increased 7.8 percent.