UBS Retreats to Cash in China But Sticks to Troubled Tencent
(Bloomberg) -- There's a Chinese stock always worth owning even when you're pulling out of the market, according to one of the world's largest investors.
UBS Asset Management's Bin Shi has been buying shares of Tencent Holdings Ltd. while also raising cash to a record, saying concern over China's gaming clampdown has gone too far. Tencent, which is among the largest holdings in the $6.1 billion China fund that Shi helps to manage, can offset some of that worry by growing overseas or selling more ads, he said. The stock dropped 3.1 percent Thursday in Hong Kong, for a two-day loss of 7.1 percent.
A string of bad news and poor sentiment across Chinese assets has put Tencent, which more than doubled in value in 2017, on course for its worst year on record. UBS Asset is taking the long road, making the most of lower valuations to bet that Tencent will launch another winner like WeChat, its ubiquitous instant messaging and payment app with more than a billion users.
"Investors have turned overly pessimistic," Shi said in an interview in Taipei, adding that the stock looks undervalued. "Tencent needs to prove itself again. I think it's one product-launch away from breaking through."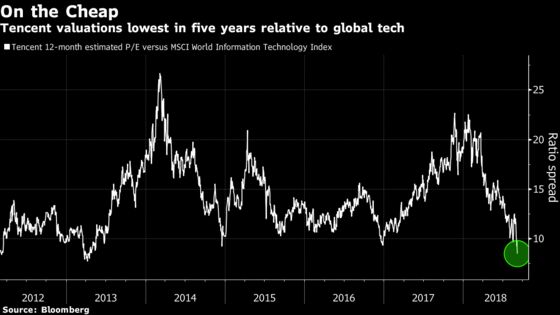 Tencent enjoyed a brief rebound at the end of August, before selling resumed last week after regulators in China announced plans to curtail the number of online games and limit their usage. The largest stock listed in Asia has shed about $180 billion in value since January, the biggest wipeout of shareholder wealth worldwide. Mainland investors are also fleeing what's long been their favorite Hong Kong stock, dumping almost half of their positions since May.
Analysts remain bullish on Tencent despite its narrowing margins and slowing games business. Citigroup Inc. predicts a 29 percent rally in the next 12 months from Wednesday's close, sticking to its "long-term thesis" on the stock even though it expects smartphone revenue to decline next quarter. With Tencent trading near its lowest valuation relative to global tech since 2013, UBS Asset's Shi is buying the dip, keeping holdings of the Chinese Internet giant at 9.2 percent of the fund.
When it comes to the broader market, Shi is staying on the sidelines until global trade tensions subside or Chinese regulators announce policy changes that are significant enough to spur growth. He's allocated about 19 percent of the China fund to cash, matching levels from when the nation's equity bubble burst in 2015. Shi joins another top China fund that's sticking to cash and saying the struggling stock market has yet to bottom.
"Now is the time to be conservative," he said.
New York-listed Alibaba Group Holding Ltd. is the largest position in UBS Asset's China Opportunity fund, the biggest of its kind globally. Shi is bullish on stocks in Internet, education and health-care sectors, saying that tougher government rules will eventually force out competition for the companies that lead those markets.
"Although these sectors may be impacted by regulation in the short-term, it will separate the leaders," he said. "We are long-term bullish," on those stocks.