Birthplace of Asian Crisis Becomes Haven in Emerging-Market Rout
(Bloomberg) -- Thailand, the birthplace of the Asian financial crisis two decades ago, has emerged as a haven from this year's emerging-market rout.
The baht has outperformed every other developing-nation currency in the past month as the turmoil centered on Argentina and Turkey began to spread across emerging markets. Thailand's large current-account surplus and foreign-exchange reserves, as well as a relatively low level of overseas ownership have cushioned any impact. Nomura Holdings Inc. and Aberdeen Standard Investments expect the currency to remain resilient.
There's "low ownership, so little selling," said Edwin Gutierrez, the London-based head of emerging-market sovereign debt at Aberdeen Standard Investments. "You would need a pretty substantial mega-crisis to trigger a sell-off in the Thai baht."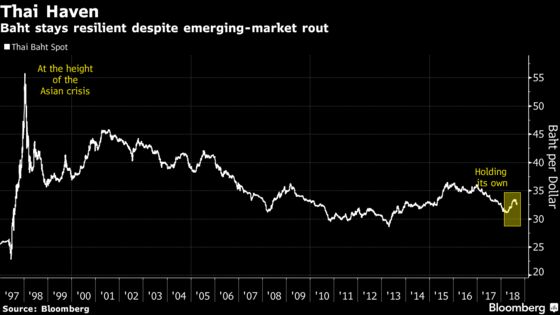 The possibility that the Bank of Thailand will raise rates is "an added tailwind" for the currency, Nomura analysts, including Craig Chan, wrote in a report Wednesday. Policy makers will likely raise the benchmark rate to 1.75 percent by the end of the year, from 1.50 percent, according to the median forecast of economists in a Bloomberg survey.
The baht has strengthened more than 1 percent in the past month, while currencies from Turkey to India slumped to record lows as a rollback in U.S. Federal Reserve stimulus and global trade skirmishes dented demand for riskier assets.
The yield on Thailand's 10-year government notes has risen 43 basis points to 2.77 percent this year, significantly less than the increase recorded by Indian and Indonesian debt, which have borne the brunt of the selloff in Asia. Thai bonds drew more than $5.6 billion in the first eight months of the year. Overseas investors were still snapping up the securities this week, even as local-currency debt in developing nations worldwide lost 0.9 percent.
In 1997, Thailand abandoned its policy of pegging the currency to the U.S. dollar as it lacked the reserves to support the baht against speculative selling. The move unleashed a wave of speculative attacks on other regional currencies and shook the global economy. More than two decades later, Thailand's current-account surplus of about 10 percent of gross domestic product is attracting capital to the country.