Bank Indonesia Chief Signals Rate Hike as Rupiah Rout Worsens
(Bloomberg) -- Indonesia's central bank governor vowed Wednesday to take "pre-emptive" steps to counter a deepening rout in the currency, using language he'd adopted before to signal an interest-rate hike.
"We will keep monitoring what happens globally," Bank Indonesia Governor Perry Warjiyo told lawmakers in Jakarta. "We will still take pre-emptive, front-loaded and ahead of the curve measures to face new developments."
After raising interest rates four times since May by a total of 1.25 percentage points, Warjiyo and his deputies have softened some of their rhetoric on interest rates in recent weeks, saying policy action will be "data-dependent." The governor's comments on Wednesday reflect a return to stronger language, suggesting another rate hike may be coming, possibly before the next scheduled policy decision on Sept. 27.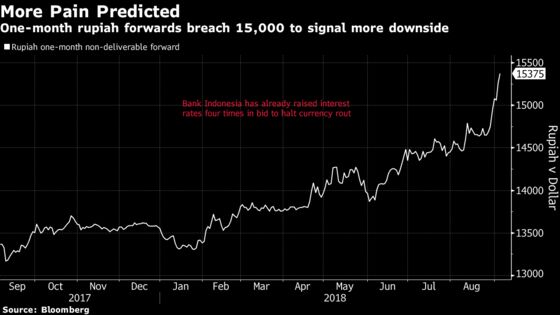 "Turkey and Argentina issues have forced us to formulate further scenarios and steps to stabilize the rupiah," Warjiyo said. Policy makers will take measures, including rate hikes and dual intervention, he said.
The central bank last had an out-of-cycle meeting on May 30, when it raised rates by 25 basis points.
The rupiah has slumped this week as a market selloff in Argentina, Turkey and now South Africa spreads across emerging markets. The currency is heading toward 15,000 to the dollar for the first time since the Asian financial crisis two decades ago and is down more than 9 percent this year. The benchmark Jakarta Composite Index slumped 3.8 percent on Wednesday, the most since November 2016.
Aside from rate hikes and market intervention, Indonesia's government is also intensifying efforts to rein in the current account deficit and protect the rupiah.
Charu Chanana, an economist at Continuum Economics in Singapore, said that while the rupiah at 15,000 to the dollar is a psychological level and "Indonesia's pains are unlikely to end there."
"More rate hikes still remain in the offing, as the escalations of trade wars and gains in oil prices from the impending U.S. sanctions on Iran, due November, will keep the rupiah at risk," she said.