Asian Stock Discount Deepens to 16-Year Low Versus U.S. Peers
(Bloomberg) -- Escalating trade tensions, turmoil in emerging markets and the strong outperformance of U.S. assets have pushed the discount between Asian stocks and their American counterparts to the deepest since 2002.
Stocks in the benchmark MSCI Asia Pacific Index are less than half as expensive as shares in the S&P 500 Index based on price-to-book value analysis, according to data compiled by Bloomberg. The measure is at its lowest since January 2002, the data show.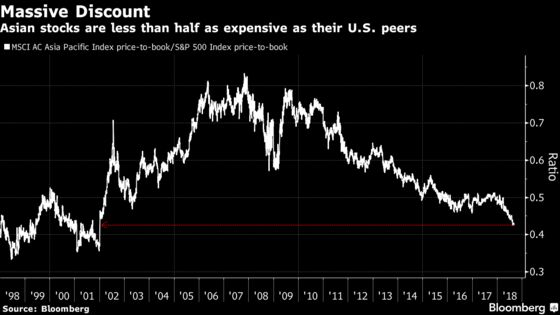 "Asian shares look incredibly cheap," said Shane Oliver, head of investment strategy and chief economist with AMP Capital Investors Ltd. in Sydney. "There's a buying opportunity there but it depends on your time horizon."
While investors should exercise caution in the near-term due to the ongoing trade war between the U.S. and China, and collateral damage from emerging markets, Oliver expects investors to begin to question the sky-high valuations of stocks in the S&P 500 over the next year as a near-term factors such as the stronger dollar and Trump tax cuts fade.
Strategists at Bank of America Merrill Lynch also see a buying opportunity for Asian shares, in particular those from emerging Asian countries, on a combination of robust growth and cheap valuations.
"While the U.S. has outperformed for valid reasons, we now see the underperformance for non-U.S. markets getting very stretched," analysts led by James Barty, head of global cross-asset strategy, wrote in an Aug. 30 report.