Wall Street Analysts Split on How to Trade 'Overvalued' Dollar
(Bloomberg) -- By many conventional measures, the dollar is increasingly overvalued. Yet what investors should do with that information is becoming less clear.
The greenback is surging, trading more than 11 percent above its 10-year average in real effective terms as of July, according to data from the International Monetary Fund. The euro-dollar exchange rate, the world's most frequently traded currency pair, is now over 15 percent weaker than purchasing-power-parity data calculated by the OECD would suggest. Meanwhile, the Federal Reserve's trade-weighted dollar index has climbed to within 4 percent of its 2002 record high.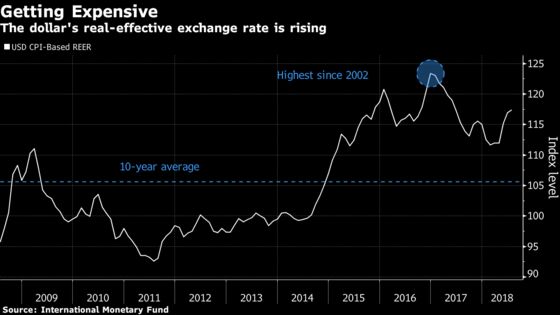 For UBS Securities LLC, the dollar's recent run-up is one of several reasons traders should be selling the greenback. But for Societe Generale SA, surging dollar demand is evidence of how perilous the rest of the world has become. With emerging-market assets under fire just as Italian political risks flare and the U.K. prepares for a no-deal Brexit, there's little reason to look beyond the U.S. currency, according to global strategist Kit Juckes.
"There's more negatives on everything else," Juckes said. "The U.S. is a relative stability story. It makes it hard for markets. It's hard when the thing you want to buy is already expensive."
The Bloomberg Dollar Spot Index has climbed about 6.5 percent since mid-April, buoyed by strong U.S. economic data, rising global trade tensions and rate differentials widening in the greenback's favor.
Juckes expects the currency to remain "top dog" as the euro area contends with Italian budget concerns and lackluster growth, while idiosyncratic risks in countries such as Turkey and Argentina threaten emerging markets broadly.
Geoffrey Dennis, head of global emerging-markets equity strategy at UBS, takes a different view. While the U.S.-China trade standoff has fueled a flight-to-quality bid into the dollar, he believes a further escalation of tariffs would weigh on the greenback. In addition, markets are overpricing Italy-related risks, according to Dennis, cheapening the euro and setting the stage for the common currency to rebound.
"Long-term, currencies cannot stay out of equilibrium forever," Dennis said.
Juckes disagrees. While foreign-exchange markets do respond to valuation imbalances, the current global landscape overshadows such measures. Until other major central banks follow the Fed in tightening monetary policy, Juckes said, the expensiveness of the dollar is unlikely to deter investors.
"The dollar is expensive," he said. "That will matter one day, but not this day."