Volatility Is Set for a Comeback After Unusually Quiet August
(Bloomberg) -- Strategists are predicting a pickup in volatility after an usually quiet August, seeing choppy waters ahead for traders who took a summer break.
U.S. stock price swings were so muted last month that by some measures it was the calmest August since 1967. The Cboe Volatility Index, also known as the VIX or Wall Street's fear gauge, averaged 13.6, lower than the five-year average of 14.6. Blame seasonality or traders who took a summer break, but strategists say don't get too comfortable.
While the end of the U.S. summer season almost always boosts volatility, there are specific factors at play this year that also heighten risks. They include the turmoil in emerging markets -- where Argentina and Turkey rattle investors on a near daily basis -- as well as complicated Italian politics and trade tensions emanating from the Trump administration. All that will certainly add to stock-market swings and could create long-term buying opportunities given the fairly tame valuation levels for U.S. equities, according to Dennis DeBusschere, the head of portfolio strategy at Evercore ISI.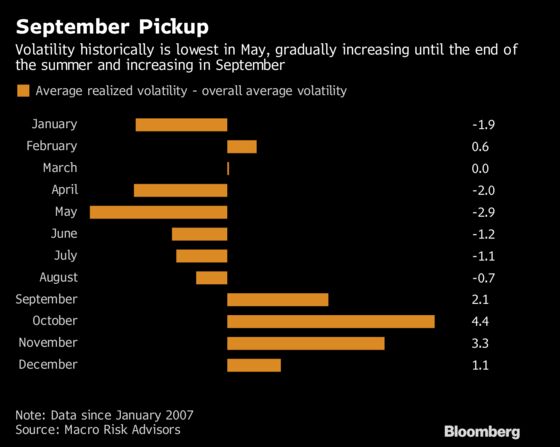 "Investors need to digest headline risks over the next few weeks, which will likely push volatility higher and put downward pressure on multiplies," DeBusschere wrote in a note. "Fortunately, the S&P PE has already moved lower over the course of 2018, which should leave the market more resilient to a spike in volatility than it was in January."
Realized volatility is typically lowest in May and then slowly ticks higher through the U.S. summer months, remaining at below-average levels through August, according to Vinay Viswanathan, a derivatives strategist for Macro Risk Advisors. The pattern benefits going long S&P 500 one-month volatility positions before September, he said.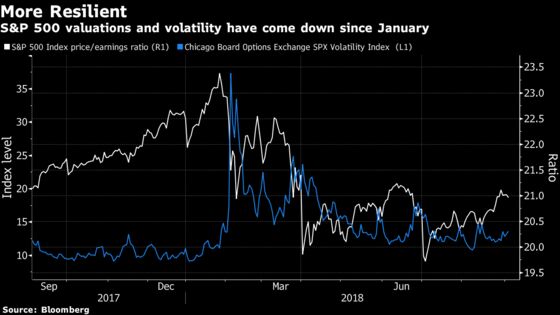 With the back half of 2018 also comes scheduled events that could create volatility, such as the midterm elections in the U.S. and central bank meetings. While a JPMorgan gauge of global currency volatility has risen in the past few days, it's still hovering below its five-year average. That could change, according to Bank of America foreign-exchange strategists Alice Leng and Vadim Iaralov.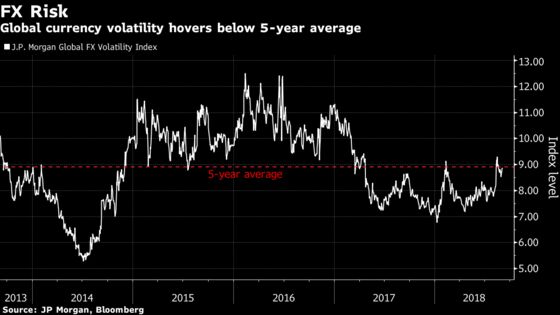 "As we leave the negative vol seasonality of the summer behind us, we broadly expect vol to rise in the fall," they wrote in a note last week.
To hedge against elevated risks, the strategists recommend owning three-month dollar-yen implied volatility should a midterm election "shakeup" materialize or U.S. talks with China or North Korea deteriorate.