Unity Bank Sells $1.1 Billion of Bad Loans to Lure Investors
(Bloomberg) -- Unity Bank Plc sold 400 billion naira ($1.1 billion) of bad loans to clean up its balance sheet as it seeks to conclude talks for a cash injection aimed at stabilizing the Nigerian lender.
The disposal to Frontier Capital Alternative Asset Ltd. of the toxic assets cut the ratio of non-performing loans to near zero from almost 50 percent and helped to shore up Unity Bank's liquidity, Chief Financial Officer Ebenezer Kolawole said in an interview. The deal helped the Lagos-based lender sign an agreement with a foreign equity investor that it hopes to finalize during the first half of 2019, he said.
Unity Bank is trying to raise about 270 billion naira to recapitalize its operations after missing a regulatory deadline last year to bolster the amount of cash it sets aside as a buffer against potential shocks. Formed 12 years ago out of the merger of nine lenders, Unity Bank is only beginning to recover from a 2016 contraction in Nigeria's economy that caused bad debts to soar, and is making "massive" progress from six months ago, the CFO said.
"We're on the verge of completing our capitalization," Kolawole said. "We're raising substantial capital that will block the hole in the bank."
The talks come after negotiations with New York-based private-equity firm Milost Global Inc. for a capital injection fell apart in March. Although Milost said it reached agreement with the lender to invest $1 billion in equity and debt, Unity Bank said the talks were only preliminary and didn't reach the commitment stage. Kolawole declined to comment on the matter.
Frontier Capital Alternative Asset, a unit of Lagos-based advisory and investment firm Frontier Capital Group, acquired the bad loans after making an initial payment of 6.4 billion naira to Unity Bank, he said. It recovered 5 billion naira in the first half of this year while both companies have an agreement to share the recovered funds over the next five years, he said, declining to give more details.
The central bank also appointed Unity Bank to administer an 80 billion-naira credit facility for more than 300,000 rice farmers, Kolawole said. As part of the program, Unity Bank obtains funding from the central bank at an interest rate of 2 percent and then lends this on to farmers at 9 percent, helping to boost its income, he said.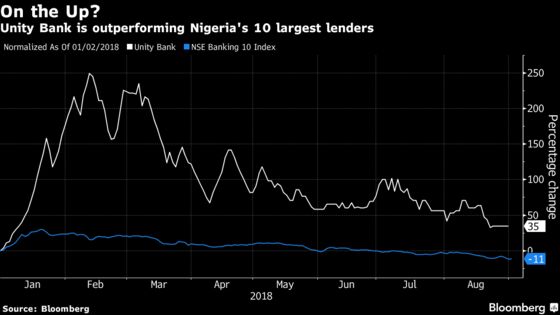 The company has yet to release 2017 financial statements after reporting its second straight year of negative capital adequacy ratios in 2016. That year, net income slid almost 54 percent to 2.18 billion naira, with assets of 493 billion naira, according to the annual report. The lender in April said it had submitted its audited financial statements to the central bank for review and those will be filed with the Nigerian Stock Exchange once this process is concluded.
Unity Bank has had to switch its business model to rely more on transaction income as its ability to lend is curtailed by its capital levels, Kolawole said. The company is looking to boost customer accounts to 15 million by 2022 from four million by automating its services and introducing new liability and asset products, he said.
"We have room to grow the business," Kolawole said. "We just need to settle the capital issue."