Stock Volumes Rise as Traders Brace for Eventful Week Post Break
(Bloomberg) -- Volume in U.S. stocks jumped Tuesday as traders got down to work after a holiday weekend.
About 1.3 billion shares in the S&P 500 changed hands as of 2:47 p.m. in New York, 10 percent above the 20-day average for this time of day. Trading activity in the Dow Jones Industrial Average was 9 percent above average, as Nike Inc. was responsible for most of the heavy lifting. Volume in the athletic apparel giant jumped more than 300 percent above its 20-day average amid controversy over the firm's ad campaign with Colin Kaepernick.
A holiday-shortened week will be eventful for markets, with volumes likely to remain elevated. U.S. jobs data, a possible announcement of $200 billion in tariffs on Chinese products, Facebook Inc. and Twitter Inc.'s testimony before Congress, and Syria talks are all scheduled.
Mounting uncertainty over trade and an array of quarterly earnings reports in August did little to prevent volumes from dropping last month.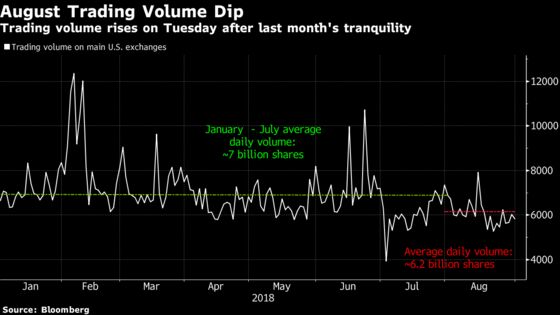 About 6.16 billion shares changed hands on average on the nation's main bourses in August, 12 percent lower than 2018's average through July. A slide in trading volume activity, however, should not be a surprise. Since 2009, August volumes have typically been the third-lowest, with just July and December registering lesser volumes.