Mighty Dollar and Trade Fears Drag Silver Down to Two-Year Low
(Bloomberg) -- Silver is being hit on all sides.
Gold's cheaper cousin tumbled Tuesday to the lowest since January 2016 as investors bypassed precious metals in their hunt for a haven amid a selloff in emerging markets. Silver's industrial demand prospects also are dimming as the U.S. trade disputes with China, Mexico, Canada and other global powers drag on, fueling growth concerns.
The white metal has slumped 17 percent this year as a stronger dollar and higher borrowing costs curbed the appeal of non-interest bearing precious metals. Money managers are growing increasingly bearish on silver, taking their net-short position last week to the biggest since April.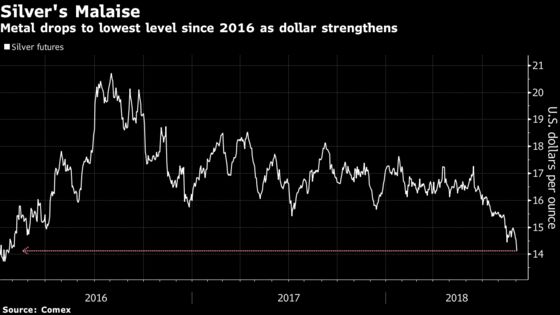 "Silver traders have been throwing in the towel lately," George Gero, a managing director at RBC Wealth Management, said in a telephone interview. "It's all about the dollar, tariffs, and the trade outlook. It's not looking positive. Traders are waiting for lower prices because of the dollar and creeping up of interest rates."
Trump Faces Fight With Canada on Nafta as China Duties Near 
Silver futures for Dec. delivery fell 2.6 percent to settle at $14.18 an ounce at 1:26 p.m. on Comex in New York, posting the biggest decline since Aug. 15. Earlier Tuesday, the metal touched $14.035, the lowest in more than two years.