Five Stocks to Watch as China Breaks Into Global Drug Market
(Bloomberg) -- Many of China's most innovative drug firms have ambitions to be global leaders in the next generation of medicines for cancer, hepatitis and other diseases. While the industry is still at a nascent stage, more companies are attempting to develop their own blockbuster therapies.
The MSCI China Health Care Index surged to a 14-year high in June and then started tumbling, a correction that gained momentum in July after a small local vaccine producer, Changsheng Bio-Technology Co., was found to have sold substandard vaccines. President Xi Jinping's government has pledged more scrutiny of the entire industry.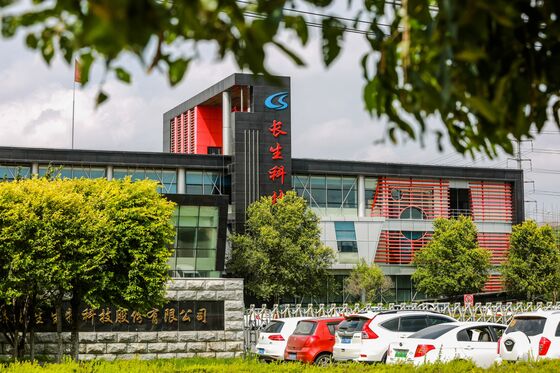 The Chinese players are tiny compared to their global rivals, making it harder for them to gain a foothold internationally, but the sector still has its fans. Beijing's "Made in China 2025" initiative, intended to upgrade the country's manufacturing industries, includes plans to build homegrown champions in the pharmaceutical industry.
The government hasn't given up on its ambitions, according to Brad Loncar, chief executive officer of Loncar Investments, which tracks 28 companies in its China BioPharma Exchange-Traded Fund. "There's a new crop of globally recognized management teams doing first-class science," he told Bloomberg Television on Aug. 16. "These are companies that don't aim to be leaders just in China domestically but leaders globally."
As the industry continues to expand, here's a few of the companies that are likely to be bellwethers, offering insight into the outlook for the sector:
Sino Biopharmaceutical: Billionaires
While shares of this Hong Kong-based drugmaker have dropped about 19 percent since the vaccine scandal broke, Sino Biopharmaceutical Ltd. may get a boost on Sept. 10, when the company becomes one of the 50 members of the benchmark Hang Seng Index. Founder and Chief Executive Officer Tse Ping and Vice Chair Cheng Cheung Ling are both billionaires and own more than one-third of the company, which has major product lines for the treatment of hepatitis and cancer. Their daughter, Theresa Tse, is chairman and also a billionaire via her holdings in the company.
Sales in the second half of the year are likely to get a boost from anlotinib, a new type of anti-tumor drug developed by Sino Biopharma that got approval in May. On Aug. 16, the company reported progress in winning Chinese approval for a generic version of pomalidomide for multiple myeloma, a blood cancer. The drug is one of more than 100 generics in the development pipeline, according to a BOCOM International Research report in August.
Sino Biopharma shares sank as much as 4.5 percent on Wednesday as the benchmark Hang Seng Index lost more than 2 percent.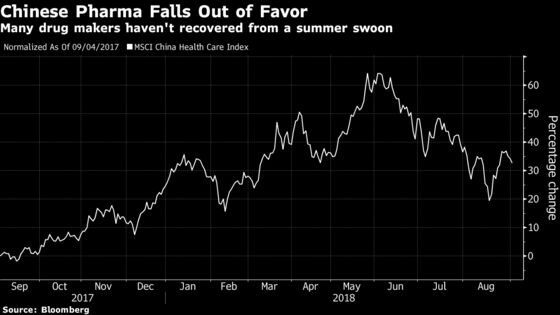 BeiGene: Cutting-Edge Cancer Drug
China has lots of "me-toos where people are making duplicates around IP of something else," CEO John Oyler told Bloomberg TV on Aug. 8. "We believe it's time that we can lead from China in this industry." Nasdaq-traded BeiGene Ltd. has a market capitalization of about $10 billion and even with the selloff in Chinese drug stocks its share price is still up more than 80 percent this year.
BeiGene's tislelizumab, a member of a new category of oncology drugs designed to inhibit the PD-1 protein (which prevents the immune system from targeting malignant cells) shows early promise in treating classical Hodgkin's lymphoma, according to Bloomberg Intelligence analysts, but that's too small of a market to make a major impact. "To lift the drug's prospects, it must be proven to work in other tumor types," the analysts wrote in a note published Aug. 22. A lot therefore is riding on late-stage trials now under way with lung-cancer patients.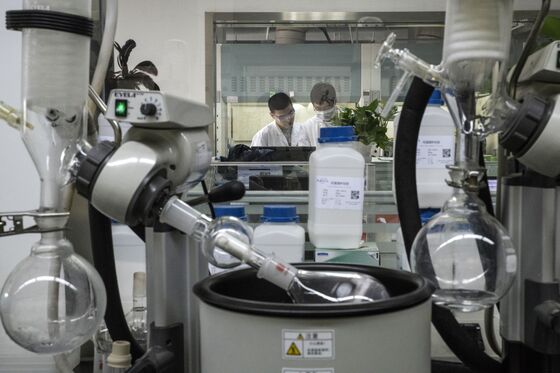 Jiangsu Hengrui: Making the List
Before investors soured on Chinese health-care stocks, Jiangsu Hengrui Medicine Co. was a star performer, with its shares rising about 55 percent from the start of the year to early June. Since then the stock has dropped about 20 percent. But on Aug. 14, Morgan Stanley raised its price target for Hengrui by 35 percent, thanks to optimism about its pipeline.
China's National Health Insurance Bureau on Aug. 17 announced its latest list of oncology drugs being considered for insurance coverage. Drugs from Hengrui and Sino Biopharma were the only Chinese-developed drugs included. However, a plan by China's Center for Drug Evaluation to speed up approvals for 48 foreign medicines may hurt Hengrui more than other local rivals because it has the most products overlapping the multinationals, according to Credit Suisse.
Ascletis Pharma: Pre-Profit IPO
A Hangzhou-based producer of drugs for HIV and liver cancer, Ascletis Pharma Inc. was the first biotech company to take advantage of the Hong Kong stock exchange's decision to allow listings by companies without profits. However, a month after the listing Ascletis shares traded about 48 percent below the IPO price, a warning to other newcomers.
That slide was temporarily interrupted on Aug. 31, when Ascletics reported a 34.1 million yuan ($5 million) profit in the first half of 2018, compared to a loss of 17.5 million a year earlier. The stock soared as much as 37 percent. To help with the turnaround, Ascletis is counting on successful sales of Ganovo and Ravidasvir, hepatitis C drugs recently approved by China's drug regulator.
Ascletis climbed as much as 15 percent Wednesday as brokerage firms initiated coverage on the stock, with Morgan Stanley giving it an overweight rating while Goldman Sachs and China Merchants Securities listed it as a buy.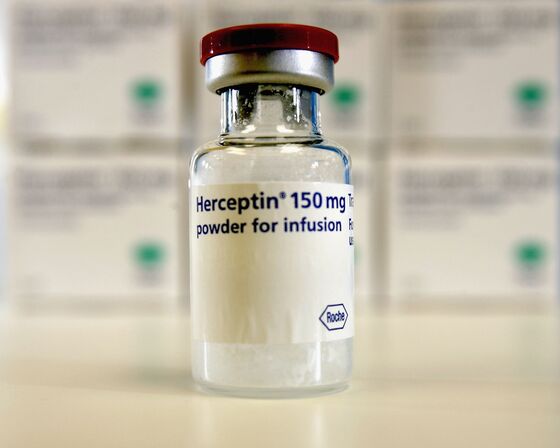 The worst may not be over for 3SBio Inc. investors after the biotech company's shares dropped more than 30 percent from their high earlier this year. The Shenyang-based company's first-half revenue fell short of some analysts estimates, with Nomura noting a "big miss" in sales of some drugs. The company is now waiting for Chinese government approval of a biosimilar to Herceptin, Roche Holding AG's breast cancer medication.
3SBio has struggled to expand beyond China, which accounts for almost all of its business. Last year it proposed buying the contract development and manufacturing business from a Canadian drugmaker for $290 million to enter the North American market but called off the deal in May.