Credit Suisse Says 2019's S&P 500 Advance Will Match This Year's
(Bloomberg) -- For U.S. stocks, next year will be just as good as this year's shaping up to be -- even without another tax cut to boost earnings.
That's the prognosis from Jonathan Golub, chief U.S. equity strategist at Credit Suisse. He expects the S&P 500 Index to finish 2019 at 3,350, implying a gain of 11.7 percent from where he predicts the measure to end this year -- 3,000. The 2018 call, if it comes true, would amount to a 12.2 percent advance. The equity benchmark closed Friday at 2,901.52.
"The next 16 months will be particularly tricky for investors, with the threat of yield curve inversion, potentially disruptive midterm elections, and continued Fed tightening," Golub wrote in a note Tuesday. "Despite these headline risks, we believe that solid economic/earnings per share growth and benign recessionary risks will be sufficient to propel the market higher."
The S&P 500 Index's 8.5 percent advance so far this year hasn't made stocks more expensive because earnings growth has soared. Forward multiples -- the price investors are willing to pay for a dollar of expected earnings -- have fallen.
Golub expects that trend to reverse next year, with profit growth moderating to 7.7 percent from 21.5 percent while multiples expand -- a rise that is normal throughout bull markets, according to the strategist.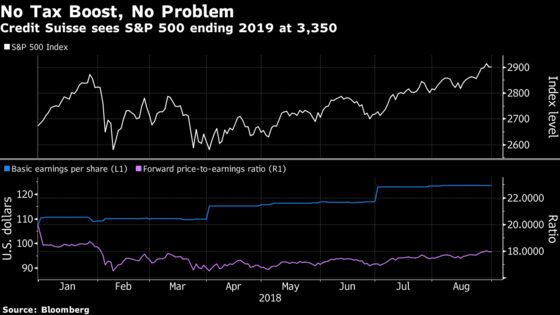 A more supportive global backdrop isn't a prerequisite for further equity gains stateside, he said, even as signs of trouble emerge in markets from South Africa to Turkey and Argentina. The divergence story that's seen the U.S. decouple from the rest of the world will play out until "the very late part of 2019," Golub said in a recent interview on Bloomberg TV.
He favors the TECH+ group of stocks, which includes select internet retailers and communication services firms in addition to the technology sector. This cohort has above-average revenue and earnings prospects, little leverage, high cash, and margins that continue to grind higher. Credit Suisse is also overweight financials and consumer discretionary stocks.
"The most important thing is that this business cycle is healthy," he said. "And as long as we're not facing recession in the near term, stocks go up."