A Chart-Watcher's Guide to the Future of Stocks
(Bloomberg) -- American stocks may be at all-time highs, but market watchers aren't exactly settling in and getting comfortable.
U.S. investors returning from the holiday weekend to sky-high prices have been quickly reminded of the risks that threaten to derail the most recent gains. Italy hasn't faded from the headlines, turmoil in Argentina, Turkey and a recession in South Africa threaten to spill over and tariffs are still on the docket.
Quincy Krosby, for one, has her eyes glued to the bond market to figure where equities go from here. High-yield bonds may still have a bid, but risk premiums have seesawed this year as investors fret interest-rate risk against the backdrop of solid economic growth.
"I watch the credit markets for warning signs," the chief market strategist at Prudential Financial Inc said. "If yields rise, not to mention the CDS market, it sends an important signal of worry -- equity markets must respect what the credit market telegraphs."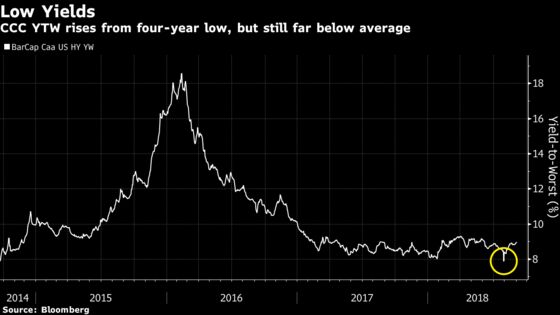 Krosby isn't the only one with keeping a close watch on signals for whether U.S. stocks go higher from here -- so far, the S&P 500 has declined 0.6 percent since closing at an all-time high last Wednesday.
Here's what others are looking at.
Dean Curnutt, Macro Risk Advisors
"This tells an important story about emerging market versus develop market risk. Does solid U.S. economic growth provide stability to the rest of world? Or is there risk that Fed tightening/re-emergence of U.S. dollar strength threatens the EM risk story as central banks are forced to follow the path of the Fed. The degree to which AUM in emerging market bond funds has grown and the reality that illiquidity can quickly become an issue is on my mind."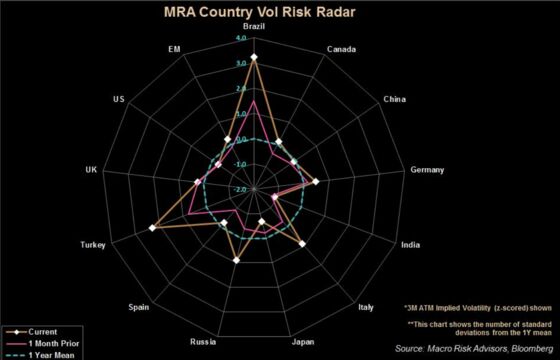 Vitali Kalesnik, Research Affiliates
"If you are a long-run investor, valuation ratios, because the equity valuation ratios in the states are quite high relative to the U.S. own history and relative to the rest of the world. If you are a short run investor -– momentum/trend indicators are quite powerful in the short run. Finally, I would be worried about the flattening of the yield curve –- it is not inverted yet which is usually a sign of upcoming recession but it has definitely been flattening."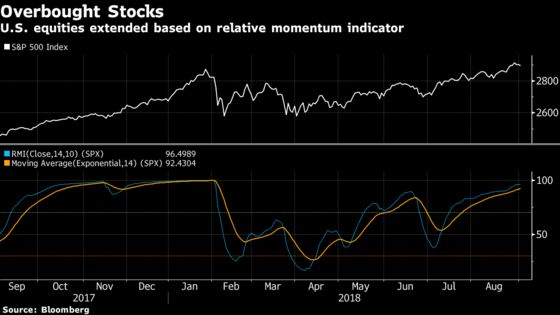 Andrew Brenner, Natalliance Securities

"Stronger dollar, based on the Fed continuing to ratchet up rates, means more difficulty for emerging countries to pay their current debt, majority of which is in dollars. As those countries struggle, their economies slow. Eventually that will reach U.S. shores and GDP numbers will be affected. U.S. growth can not be an island for any length of time. Slowing GDP will reverse equity gains."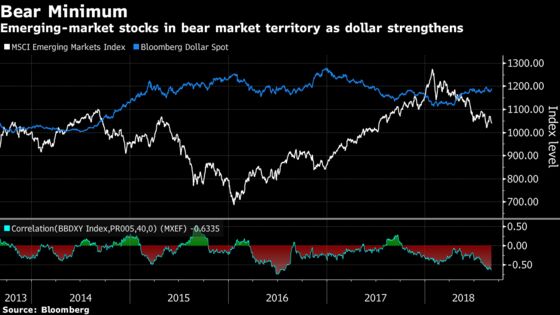 Dennis Debusschere, Evercore ISI
"By far for me -- the term premium chart. It will likely stay low given long term headwinds to inflation. Tariffs should have little impact on term premium unless they increase recession risk significantly. As long as 10-year term premium is deeply negative and recession risk is low, valuations will remain higher than normal and equities will move higher along with EPS growth."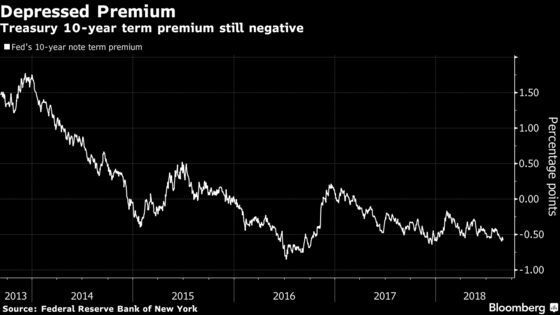 Inigo Fraser Jenkins, Sanford C. Bernstein
"Shorter term sentiment indicators are important and mostly are supportive for developed markets. We track cross-border flow data and that shows a net retrenchment away from overseas positioning which is bullish. Also issuance-buybacks globally which is very extreme and also supportive. On the other side, there has rightly been much commentary on 2-10 yield curve and economic surprise indicators rolling over. They do not mean we necessarily get a recession but do imply growth slows."