Top China Stock Fund Says Wait for the Tech Rebound, If You Can
(Bloomberg) -- As Chinese technology stocks experience one of their toughest years in recent memory, Dawid Krige is keeping faith with the country's beaten down equity stars.
His London-based Cederberg Capital Ltd. bought more of Alibaba Group Holding Ltd. and Tencent Holdings Ltd. in August, stocks he once said were fit for his children's college fund but have now slumped more than 16 percent since mid-June. His long-only fund is still among the top performers investing in Greater China equities over the past year, with a 27 percent return through July, data compiled by Bloomberg show.
"Most of the current drivers -- be it Trump and tariffs and Turkey, as well as the deleveraging -- are probably more of a transient nature," Krige said by phone on Aug. 24. "But Chinese equities have never been up in a straight line and have tended to be very volatile. We think it's a great time for long-term investors to be buying."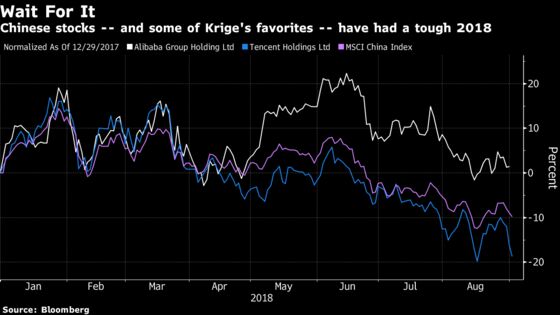 Cederberg Capital, which manages about $600 million, thrived on a strategy that encapsulated the heady days of 2017, staking large bets on tech and consumer giants such as Alibaba, Tencent and Kweichow Moutai Co., the beneficiaries of a burgeoning middle class. That started going south this year as economic momentum cooled amid the unresolved U.S.-China trade conflict. As of Aug. 29, the fund had negative returns last month.
A question for investors now is whether this is just a blip in the wider China story, and can they stomach the volatility and sit tight.
For Krige, the answer is yes. He can afford a long-term view because his investors do. With a $100,000 minimum investment, the fund mostly attracts institutions and wealthy families. The performance fee's hurdle rate is calculated on a rolling three-year basis, and new share classes mandate a three-year lock-up. His funds have seen net money inflows this year, he said.
Even as the U.S.-China trade war whipsaws Chinese markets, Krige said he hasn't sold any of his holdings and has added China Foods Ltd., which he sees as a beneficiary of state-owned enterprise reforms. As for Alibaba, whose profits dropped last quarter partly due to large investments, its future will depend on how those new businesses pan out, he said.
"It has a good track record with capital allocation, and many of these investments they have been making -- be it in cloud or payments or online video -- will ultimately bear fruit," he said. "It's widening the moat."
Krige is keeping his chin up on Tencent, which has lost around $165 billion of value from its January peak on concerns China is becoming more restrictive on gaming regulations. "We're not reading anything in it that the government is anti-Tencent or anti-online games, or anything as dramatic as that," he said.
Tencent tumbled 5 percent on Friday after regulators said they planned to put new curbs on online games to tackle device addiction. It fell a further 2 percent Monday, then rebounded 1.8 percent Tuesday, the stock's first gain in a week.
"Whilst in the short term this has added to regulatory uncertainty (and to the narrative that the government is anti-gaming), we don't see these events having much of an impact on Tencent's long term dominance of gaming, which should remain a highly profitable segment for the company," Krige said Friday.