South Africa Makes Rare Intervention to Contain Fuel Prices
(Bloomberg) -- South Africa intervened in setting fuel prices for September for the first time since the early 2000s as costs surged by more than inflation as the rand plunged, straining consumers.
A liter of 95-octane gasoline in the central province of Gauteng, home to the economic and administrative capitals, will climb by 0.05 rand to 16.08 rand ($1.08), a record high, at midnight on Sept. 5, the Department of Energy said in an emailed statement Monday.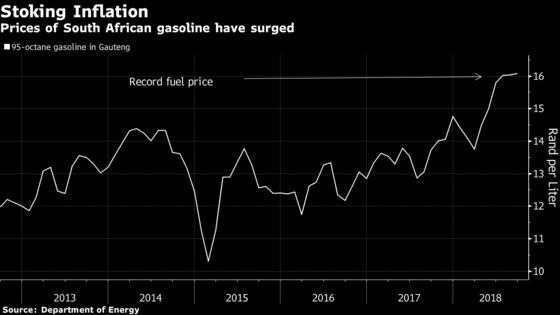 Gasoline prices in Africa's most-industrialized economy, which imports all its crude, are regulated and recalculated monthly according to movements in the rand and oil prices, and annual changes to taxes. The under-recovery in the month through Aug. 30 indicated fuel prices would rise by 0.28 rand. They climbed 23 percent in August from year earlier, government data showed.
The advance will cater for forecourt attendants' salary increases but doesn't cover the higher cost of fuel and the slump in the rand, which had its worst month against the dollar in August since May 2013, raising the cost of imports.
South African inflation accelerated to the highest level in 10 months in July, driven by increased fuel prices.
"This is a once-off, temporary intervention to provide some relief to motorists and consumers against fuel-price hikes," the Department of Energy said, without explaining how the shortfall would be covered.
In July, President Cyril Ramaphosa said the government is planning interventions to mitigate the impact of record-high gasoline prices, saying they pose a challenge for works and could crimp growth in the economy.
"Someone has to bear the cost of the under-recovery of the product that they imported and refined," Peter Noke, head of terminals at Royale Energy (Pty) Ltd., said by phone.
There has been no additional communication from the department with fuel retailers besides the press statement, said Vishal Premlall, a director at the South African Petroleum Retailers' Association, whose members include the local units of Chevron South Africa Ltd., BP Southern Africa Ltd. and Total South Africa Ltd.